By: Liana Handler and Dylan Pierce
Santa Fe High Raiders lost their District Championship game to the North Marion Colts 71-69 in an electric game. While most of the championship seemed to trend towards Santa Fe High, a few missed free throws gave North Marion the 4A championship win.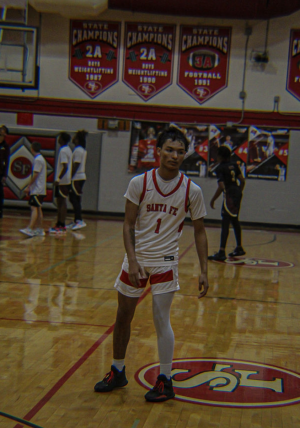 Strong Defense
Both teams hovered near the center circle for most of the game as strong defenses blocked most advances before they were able to cross the three-point line.
At times Santa Fe High's captain, Dontrell Jenkins, was triple-teamed, forcing him to have to pass the ball before he was able to get anywhere near the key.
Similarly, North Marion's Sammie Yeanay faced a similar approach as he entered the paint. Unsurprisingly, this resulted in the teams being nearly tied at half with Santa Fe High leading 30-28.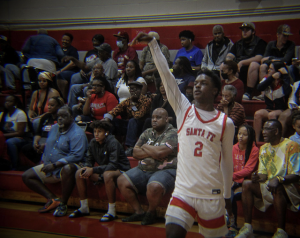 Making Shots When It Counts
Both teams consistently drew fouls, a significant factor in the outcome of the game. While Santa Fe's Dontrell Jenkins and Makhi Lewis put up steady points, North Marion's shots were less consistent, keeping the game close.
However, Sammie Yeanay was quickly able to regain any ground they lost. Electrifying dunks mixed with simple rebounds ensured North Marion wouldn't fall behind.
Simple Things Done Right
Fundamentals, eventually, won the game for North Marion. Whether it was dribbling, keeping the ball in the court or rebounding, the Colts rose to Santa Fe's challenge.
Contrastingly, Santa Fe suffered from unfortunate steals and blocks by North Marion. Both teams battled through the final minutes of the fourth quarter.
In the last two minutes, North Marion missed a free throw. With the ball in Dontrell Jenkins' hands, it seemed as though the game would be won in a buzzer-beater. However, in the final seconds of the game, a heartbreakingly close miss by the Raiders gave the Colts the 71-69 win.
North Marion will host Umatilla on Thursday for the start of the 4A regional tournament. Santa Fe stays alive and will take on Palm Bay to tip off its quest for a regional title.
NORTH MARION WINS A CLASSIC! Santa Fe's game winner attempt misses and the Colts are district champs. @ESPNGainesville pic.twitter.com/S9P0KS4cjb

— Carson Kaley (@CKaley11) February 11, 2023