The World Baseball Classic is taking place for the first time since 2017.
This is the WBC's 5th iteration, and it's taking place from March 7-March 21.
The WBC began in 2006 and has taken place in 2009, 2013 and 2017. The tournaments' 5th iteration was originally scheduled to take place in 2021 but was canceled due to COVID-19.
Now, it returns with its biggest pool yet.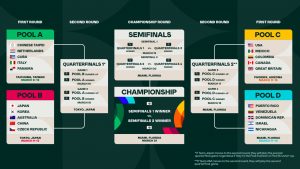 Teams Competing
The WBC pool expanding from 16 to 20 teams this year.
All 16 teams in its previous iteration were guaranteed spots in the tournament, and the remaining spots were determined through qualifying tournaments.
Panama, the Czech Republic, Great Britain and Nicaragua secured the four additional spots. Out of these four teams, Panama is the only one to have competed in a WBC before.
The teams are split into four pools and will compete in different locations.
Pool A: Chinese Taipei, Netherlands, Cuba, Italy and Panama.

Pool B: Japan, Korea, Australia, China and the Czech Republic.

Pool C: United States, Canada, Mexico, Colombia and Great Britain.

Pool D: Puerto Rico, Venezuela, Dominican Republic, Israel and Nicaragua.
Host locations include Intercontinental Baseball Stadium in Taichung, Taiwan, the Tokyo Dome, Chase field in Phoenix, Arizona and LoanDepot Park in Miami, Florida.
Taichung, Tokyo, Phoenix, and Miami are ready!

Here is the official tournament format for the #WorldBaseballClassic 2023. ⚾️ pic.twitter.com/co0IxZZad4

— World Baseball Classic (@WBCBaseball) July 7, 2022
Scouting Report
The Dominican Republic, United States and Japan are expected to be among the top teams heading into the tournament.
They are the only teams to have taken the title in the WBC's four iterations thus far.
Japan won the WBC in 2006 and 2009, while the Dominican Republic took the title in 2013. The U.S. secured its first championship in 2017.
What #WorldBaseballClassic teams are in your Top 10? https://t.co/nlQFKqryaO pic.twitter.com/Mnt5GWvYOl

— World Baseball Classic (@WBCBaseball) March 3, 2023
Star-Studded Lineups
While the U.S. looks for their second straight title, the Dominican Republic and Japan will give them a run for their money.
One of the Dominican Republic's biggest strengths is their pitching. One of their starting pitchers is 2022 National League Cy Young Award winner Sandy Alcantara (Marlins). Alcantara is accompanied by other powerful pitchers such as Johnny Cueto  and Christian Javier of the Astros.
The Dominican Republic has plenty of talented pitchers lined up in the bullpen to keep them going.
Japan also has a star pitcher in Shohei Ohtani (Los Angeles Angels). He is someone to watch out for in the WBC. He won American League MVP in 2021, with 130.1 innings pitched, 156 strikeouts, 46 home runs and 100 RBIs.
The #WorldBaseballClassic is loaded with talent! pic.twitter.com/8kfJDIbQ2E

— MLB (@MLB) March 7, 2023
Team USA
The United States took the WBC championship title in 2017.
Los Angeles Angels center fielder Mike Trout will play in his first ever WBC. Trout is a 10-time All-Star, three-time American League MVP and time-time Silver Slugger Award winner.
Trout is accompanied by other dominant players including Mookie Betts, Nolan Arenado and Paul Goldschmidt.
Current Tournament Trends
Team Netherlands defeated Cuba 4-2 to kick off the Classic.
Atlanta Braves catcher Chadwick Tromp is representing the Netherlands in the tournament. He is from Aruba, which is part of the Kingdom of the Netherlands.
Tromp had a two-run single to give the Netherlands a three-run lead (4-1).
Team Netherlands rallies for the lead with a 3-run 6th! #WorldBaseballClassic pic.twitter.com/A2W7tuwNs7

— World Baseball Classic (@WBCBaseball) March 8, 2023
Panama defeated Taiwan 12-5, giving them their first win of the World Baseball Classic. They had 14 hits on the nights and some incredible defensive plays, including one by outfield Luis Castillo.
https://twitter.com/WBCBaseball/status/1633459544843059200
Coming Up
Team USA will plays its first game against Great Britain on March 11.