The Oak Hall Eagles baseball team entered the 2023 season with plenty of high hopes for what they wanted to accomplish. Although their season has now come to an end, the Eagles certainly met those expectations they set for themselves. If anything, they surpassed them.
Oak Hall was eliminated from the Class 2A State Championship tournament on Friday afternoon. They fell behind early in their Regional Semifinals match up with the North Florida Christian Eagles, eventually going down in a 12-7 loss.
However, Oak Hall's season will be far from defined by their final game. From securing their first District Championship in over a decade and one of their best records in program history to multiple breakout seasons from players all across the roster, the Eagles had plenty of memorable moments throughout the 2023 campaign.
The Eagles finished the year with an 18-6 record. Three of those losses came in one-run games, while eight of their wins were by 10 or more runs. No matter the opponent they faced or the circumstances under which they took the field, the Oak Hall Eagles always found a way to play their hearts out from the first pitch to the final out. That fighting spirit has transformed them into one of the most resilient and entertaining ball clubs in the entire state of Florida.
Recapping The Season Finale
Oak Hall struggled throughout the early innings of their match up with North Florida Christian. They only managed to record one hit in the first three innings of the game. Oak Hall also gave up six runs (and two homers) to NFC in that span. At the end of the third inning, the game was briefly paused due to a lightning delay.
The Class 2A Regional Semifinals matchup between the Oak Hall Eagles and North Florida Christian Eagles is now in a lightning delay. NFC had jumped out to a 6-0 lead after three innings of play prior to the delay. No word yet on when (or if) today's game will resume. pic.twitter.com/7EOMEUaykl

— Jack Meyer (@jackmeyerespn) May 12, 2023
While Oak Hall already faced a massive deficit at this point, they used the delay to their advantage, staging a late-game rally to give NFC a run for their money. North Florida Christian tacked on another home run to extend their lead to 8-0 in the bottom of the fourth. However, Oak Hall immediately responded in the following inning.
After NFC picked up two quick outs to start the top of the fifth, Brody Beaupre reached first base on a hit-by-pitch. Neil Ruth then knocked a double to give Oak Hall two runners in scoring position. Jackson Beach subsequently loaded the bases via another hit-by-pitch. Finally, Harrison Beach secured a bases-loaded walk to bring in Oak Hall's first run of the game.
In the next at-bat, Ruth scored on a wild pitch. Jack Kuzmicki then hit an RBI single and he reached second base on a North Florida fielding miscue. Harrison Beach scored on the same error. Suddenly, Oak Hall had cut their deficit in half, and NFC clung to an 8-4 lead.
Oak Hall is back in it! After a pair of runners score via a hit-by-pitch and passed ball, Jack Kuzmicki knocks in a hard ground ball single over the first baseman's head to score two more runs. Oak Hall has now cut down their deficit 8-4 in the middle of the fifth inning. pic.twitter.com/c8moQKT7En

— Jack Meyer (@jackmeyerespn) May 12, 2023
Going Down With Dignity
Nevertheless, a comeback was not in the cards for Oak Hall. North Florida Christian responded with four runs of their own in the bottom of the inning to jump back out to a 12-4 lead. Oak Hall did tack on three more runs to cut the NFC lead back down to five runs, but by then, it was too late. North Florida Christian walked away with a 12-7 victory and a berth in the Regional Finals.
With the game already out of hand, most teams would bow their heads and accept the defeat. But not Oak Hall. They fought until the very end and exited Posey Field with their heads held high. It was a tough loss, but the Eagles left the field knowing they gave it their all.
"With it being a playoff game and our seniors' last game, there was a little more extra drive there," Oak Hall sophomore Gavin Jones said.
Now that the curtains have been drawn on the Eagles' 2023 campaign, a trip down memory lane is in order for one of the most thrilling seasons in Oak Hall baseball history.
Oak Hall Prepares To Put The Area On Notice
The Oak Hall Eagles were not an overnight success story. The team went through hundreds of hours of training and practice to get to where they ended up. They managed to build a stellar squad brick by brick over the last two years, with their hard work finally coming to fruition in 2023.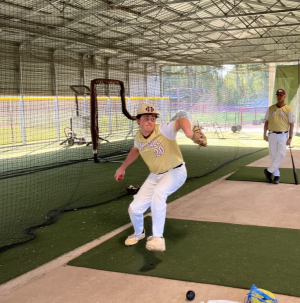 Coming off of a strong 2022 season, the Oak Hall Eagles were still hungry for more. After narrowly missing out on their first District Championship since 2011, they wanted to make the following year their best one yet. With all of their starters returning in 2023, the Eagles were already in good shape to run it back. But then they found a way to improve even more.
Enter Jack Steen and Darion Medley, two transfers from Saint Francis Catholic High School. Steen gave the Eagles another starting-caliber pitcher for their rotation, while Medley filled in Oak Hall's hole at center fielder to a tee. Additionally, Gavin Jones joined the team during the 2022 offseason. Jones, who came over from Buchholz High School, provided the team with some extra firepower in the batter's box.
"[Oak Hall] has the best coaching in the area [of Gainesville]," Steen said. "My first two years at Saint Francis weren't the greatest, so I love showing them what they are missing."
All three new additions served as the final pieces of the puzzle to build the Eagles' dream team. With a starting lineup that could hit from the 1 slot to the 9 slot and a revamped bullpen, Oak Hall was now primed to finish what they had started the year before.
Racking Up The Wins Throughout The Season
The Eagles got off to a hectic start in their season opener against the P.K. Yonge Blue Wave. In a game that featured 25 combined hits and 13 combined errors, Oak Hall came away with an 18-16 win. While it was not exactly the perfect debut, the Eagles took their momentum from the victory and ran with it.
They went on to win eight of their first nine games to open up the season. Jackson Beach compiled an astounding .750 batting average over this span, which led the nation throughout the first month of the season. Beach also knocked out two home runs and maintained a 1.999 OPS during this slate of the schedule.
"I just try to stay in my game," Beach said. "I let [the hits] come to me and stay calm in the batter's box."
A new face atop the national leaderboard: Oak Hall's Jackson Beach now leads the entire COUNTRY in batting average for high school baseball with a remarkable .750 at the plate. Not far behind him is his teammate Jack Kuzmicki, who sits at #20 with a .636 batting average. #OakHall pic.twitter.com/mQunHa4VgI

— Jack Meyer (@jackmeyerespn) March 21, 2023
However, the Eagles eventually hit a fork in the road. In the final week of March, they dropped back-to-back games against P.K. Yonge and Mount Dora Christian Academy. This marked the first time that Oak Hall had lost consecutive regular season games in over two years.
But just like they had always done before, the Eagles got right back on their feet and took off running. Oak Hall went on a pair of four-game win streaks to finish off the regular season. Eventually, after another close loss to Mount Dora, the Eagles secured a 6-0 win in their season finale against the Eastside Rams.
Oak Hall earned the top-seed in the Class 2A District 4 Tournament, and rightfully so. They outscored their opponents 21-1 in their two tournament games to clinch the District Championship win that had evaded them for so long.
One week later, they snuck in a 6-5 victory in the Class 2A Regional Quarterfinals on a walk-off double from senior Neil Ruth. That win proved to be their last hurrah in 2023, but it capped off a campaign full of unforgettable moments for the Eagles.
NEIL RUTH. WALK-OFF. BALLGAME. OH MY GOODNESS. Neil Ruth cracks a line drive deep into center field to score Aaron Akins and Andrew McManis, and the Eagles take home a 6-5 victory over the Eagle's View Warriors. Oak Hall is moving on to the Class 2A Regional Semifinals! pic.twitter.com/kPYjqyOMsC

— Jack Meyer (@jackmeyerespn) May 9, 2023
Highlighting The Eagles' Standouts
The Eagles received plenty of help from their entire lineup through the 2023 season. Jackson and Harrison Beach led off the Oak Hall order and always found a way on base. With a .610 on-base percentage for Jackson Beach and a .516 OBP for Harrison Beach, the two brothers provided instant offense for the Eagles in nearly every game.
Ruth also had his fair share of big hits for Oak Hall. He finished the year with a .392 batting average and a team-high five triples, tallying a .608 slugging percentage along the way.
On the mound, Troy Freeman blossomed into one of the strongest ace pitchers Oak Hall has seen in years. He finished the season with a 7-1 record through 12 starts and 56 innings pitched. He also maintained a team-best 2.375 ERA and 1.393 WHIP. Brody Beaupre caught for him (and the entire Oak Hall bullpen) throughout the entire season, never missing a single game or inning along the way.
Ballgame! Have a day, Troy Freeman! The Oak Hall ace pitched his first complete game of the season, only surrendering a single hit and no runs in the Eagles' 10-0 five inning run-rule victory. pic.twitter.com/PZiwhioK9p

— Jack Meyer (@jackmeyerespn) March 10, 2023
Eagles closer Ethan Szlachetka missed most of the year with a right knee injury. He eventually returned midway through April near the end of the regular season. Despite his extended absence, Szlachetka still managed to get in one save and multiple strong outings on the mound, allowing zero runs in his final four games pitched.
Yet amidst all the talent in the Oak Hall dugout, Eagles star slugger Jack Kuzmicki always found a way to stand out. Kuzmicki finished the 2023 season leading the entire state of Florida in RBIs (47). He also ranks third in the state for batting average (.606) and fourth in slugging percentage (1.000).
Kuzmicki was subsequently named the Florida Athletic Coaches Association's Class 2A Player of the Year for the second season in a row. He also earned a nod as a finalist for Diamond Prospect Media's Player of the Year award. But in spite of all the recognition he has received, Kuzmicki still values the memories he has made in the Eagles clubhouse above anything else.
"The Oak Hall baseball program means everything to me," Kuzmicki said. "Every step of the way, through failure or success, our boys always have each other's backs… I'm going to miss these positive influences, but I carry a little bit of everyone from Oak Hall with me. I couldn't imagine playing anywhere else."
JACK KUZMICKI. NO DOUBT. Kuzmicki blasts out his third home run of the season over the left field fence to give Oak Hall a 10-8 lead. pic.twitter.com/YHVxR3RMs9

— Jack Meyer (@jackmeyerespn) April 18, 2023
Oak Hall Officially Bids 2023 Farewell
As much as it hurts to admit, the saying "all good things must come to an end" holds plenty of truth to it. The Oak Hall Eagles had numerous outstanding performances at Roger Maris Field and throughout North Florida in 2o23. But now, the lights have dimmed in the Eagles clubhouse as another season comes to a close.
Despite the bittersweet ending to the year, Eagles coach Kevin Maris expressed that he could not be prouder of his team. He emphasized how far they had come from the previous season, both on and off the baseball field.
"From what they did from last year to this year, they've matured a lot," Maris said. "They got a lot of wisdom from the last couple of years we've played…we didn't quit in any game [this year], and we had a lot of big wins and fun games. I wouldn't trade this season for anything."
No matter what happens going forward, this season will hold a special place in the Oak Hall history books. All the gritty wins, electric performances on the field and blood, sweat, and tears shed in the dugout contributed to a fantastic season. Oak Hall's 2023 campaign truly ended up as the "Glory Days" that most baseball teams can only dream of. And for the Eagles, it was a dream come true.