The No. 4 Florida Gators (40-12) will travel to Lexington to take on the No. 19 Kentucky Wildcats (35-15). Florida is looking to keep control of the SEC East with a series win over the Wildcats. The outcome of this series will determine the team's placement in the SEC and the NCAA tournaments.
https://twitter.com/GatorsBB/status/1658933106936537089
Gators Look To Close Out Season On Top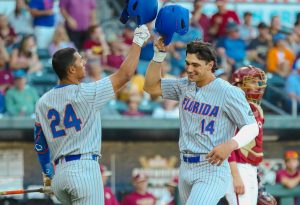 This upcoming series against Kentucky will conclude the Gators' regular season. They've had an impressive showing against some of the top teams in the nation. However, they face a top-20 Kentucky team that can shift their placement in the SEC with a series loss.
A huge part of this team's success has been Jac Caglianone. Caglianone has been having arguably one of the greatest seasons in Gators baseball history. He broke the single-season homerun record at Florida during a series with Texas A&M. It is crucial that he finishes off the regular season on a high note. The Gators will need him at full strength for the postseason.
Kentucky Looks For Upset
The Wildcats are also having a great season. They're ranked No. 19 in the country and trail the Gators by only three games in conference play. A series win can launch them to a possible top-15 seed to close out the regular season and set them up for the NCAA tournament.
Kentucky Baseball play-by-play announcer, Darren Headrick, went on SportsScene with Steve Russell and discussed how the team has prepared for a potential breakout season.
The strength of this team has been defense all season long. Head Coach Nick Mingione spoke to Steve Russell about his team's great pitching and ability to begin games with tough defense.
Florida in the SEC Tournament
With the SEC tournament set to begin at the end of the month, it's time to look at where the Gators may land for seeding purposes. If the Gators win this upcoming series and Arkansas loses their series, Florida will be at the top of the conference. Any other outcome will have the team in the top-5 no matter what. The squad is hoping for a strong push to close out the season and ultimately compete for a national title.
Wrapping up the regular season!

League standings headed into the weekend. #SECBSB pic.twitter.com/Dh2pPfm4AF

— Southeastern Conference (@SEC) May 17, 2023