The Florida Panthers completed a sweep of the Carolina Hurricanes Thursday night. A stunner goal from standout Matthew Tkachuk that zipped in with four seconds left in regulation gave the Panthers their bid into the final series of the NHL season. The Panthers' unprecedented run will now continue into the Stanley Cup Final.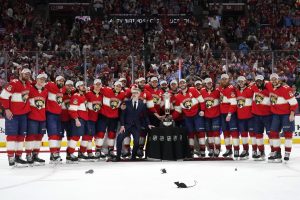 Miami Vice
There must be something in the air in Miami. Just like the Heat, the Panthers have been able to put together a postseason run out of the most unlikely of places.
WHY NOT US pic.twitter.com/zrcJsVyZdY

— Florida Panthers (@FlaPanthers) May 25, 2023
For much of the regular season, Florida was a lackluster team whose GM Bill Zito made a widely criticized move by keeping most of his team during the duration of the trade season. This move paid off, however, when the Panthers came from the top rope and made a winning run that secured them the eighth and final seed in the Eastern Conference Playoffs.
Boston Beatdown
The Panthers began their magical run with a series win over the Boston Bruins, who had the best season in NHL history record-wise.
By the end of the series, Florida was able to pull out a 4-3 victory.
Matthew Tkachuk currently sits at nine goals and 12 assists on the season. The Bruins next scorer was Tyler Bertuzzi, finishing with five goals this season.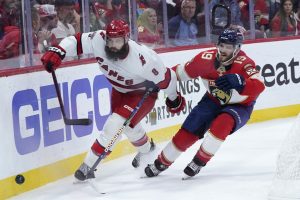 Maple Leaf Sweep
The Panthers continued their momentum with a 4-1 gentleman's sweep of the Toronto Maple Leafs. The Panthers showed their confidence in multiple moments throughout the five-game set, with moments like the two goals scored by Florida in under 50 seconds during Game 2.
Looking Ahead
The Vegas Golden Knights look to close out their series with the Dallas Stars Saturday.
The Golden Knights are currently up 3-1.
Vegas' defensive effort has been able to successfully frustrate the Stars' offense.
The stylistic matchup between the Golden Knights and Panthers should be a fascinating watch if Vegas is able to close out the series.
https://twitter.com/FlaPanthers/status/1661870928668622850