The Santa Fe Raiders led for most of the football game Friday with hopes of capturing their first win of the season, but after a late Blue Wave touchdown and a last-second missed extra point by the Raiders, they failed to leave P.K. Yonge with a victory, 28-27.
Touchdown for Touchdown
The Raiders (0-6) and the Blue Wave (3-2) went back and forth in each other's end zones in the hard-fought game.
The Raiders struck first with a second-quarter 1-yard rushing touchdown by junior running back Jamontre Markham. A fake extra-point attempt would lead to a completed two-point conversion to put them ahead 8-0. Markham would go on to have three of the four Raiders touchdowns.
Markham praised his team's mindset and drive coming into this game.
"We studied film for P.K. really well, went over it a lot at practice, and we were prepared," he said. "Everyone was happy, excited and bringing a lot of energy to practice, so we were ready to go."
Not long after the Santa Fe touchdown, P.K. Yonge responded with a score that would fall short of the two-point conversion attempt to make the score 8-6.
A late second-quarter Raiders touchdown on a 2-yard Jordan Watson run made the score 15-6 at the half.
The Blue Wave would once again fire back with two more touchdowns on runs by Devin Johnson and QB Lawrence Wright Jr. in the second half to take a 20-15 lead.
Big Time Raider Fumble Recoveries
A 50-yard Blue Wave pass looked like it would be taken in for the touchdown until the Raiders' defense chased the receiver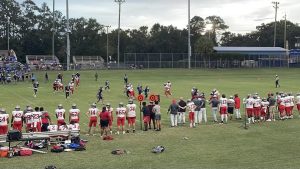 down and forced a fumble. Tucker Hodges recovered as the Raiders took over at their own 9-yard line.
The game would come down to the final drive of the night when a fumble by Raiders quarterback Erik Hockman was recovered in the end zone for a touchdown by a teammate.
The game came down to a final extra-point attempt that would miss wide right.
A Young Raiders' Team
Despite the tough loss, the Raiders were not completely disappointed with their performance. Markham spoke about the motivation this game has given the team going into the remainder of the season.
"We just gotta practice and learn from it and keep going with our season."
Santa Fe coach Joseph Szymanski spoke highly about his team's battle and is hopeful for the future of the Raiders.
"Having a really young team, we dressed 30-some sophomores on the varsity team, and they're learning and they're getting better every week," he said. "Once we get over the pain of the loss, it's a stepping stone. It was our best complete game we've played all year."
Up Next
Santa Fe will again have its hands full at 7:30 p.m. Friday when it visits Live Oak to take on undefeated Suwannee (5-0).