By Caroline King and Olivia Velardo
 The Santa Fe Raiders defeated the Hawthorne Hornets at Eastside High School on Tuesday night, 62-53.
Eastside Rams Tipoff Classic
As the high school basketball season begins throughout the state, six local teams are competing in the Eastside Rams Tipoff Classic, with Santa Fe, Hawthorne, Buchholz, P.K. Yonge, Newberry and Eastside competing.
Hawthorne's focus is on repeating as football state champions with a home game Friday against Newberry and most of the basketball players are still in pads. The Hornets had only six players suit up Tuesday and still managed to put up a fight, losing by just nine points.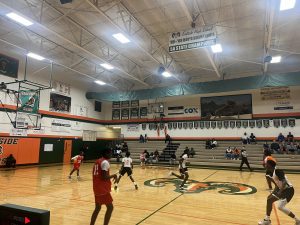 Coming off an 11-7 record last season, led by coach Gregory Bowie, the Hornets are looking for a strong start to the season this year.
Gregory Bowie serves as Hawthorne's basketball coach and offensive coordinator for the football team.
First-Half Competition
For the first half of the game, the Hornets and the Raiders worked intensely to keep the score neck-and-neck.
The first half ended in a 28-28 tie. 
HALFTIME UPDATE

HAWTHORNE: 28
SANTE FE: 28

The game is all tied up! Stay tuned for the final score update as the Hornets face the Raiders.

— Olivia Velardo (@OliviaVelardo) November 14, 2023
The Hornets stayed strong despite having one sub and half the players the Raiders had.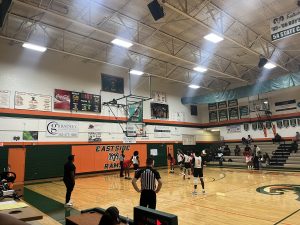 The Hornets were led by the quickness of freshman point guard Kyroe Jordan, who contributed 13 points. Eliajah Drant also matched Jordan's 13 points for Hawthorne.
Raiders Domination in the Second Half
After a back-and-forth first half, the Raiders came out on a 11-0 run against the Hornets to start the second half.
Momentum was with the Raiders from then on until two straight 3s from Jordan in the third, putting the Hornets within six.
The ball was spread around with three of the six Hornet's players ending the game in double figures. Talon Harris finished with 11.
Up Next
The Hornets play again Thursday at 5 p.m. in the preseason event.
Santa Fe, Buchholz, P.K. Yonge, Newberry and Eastside are also playing Thursday.