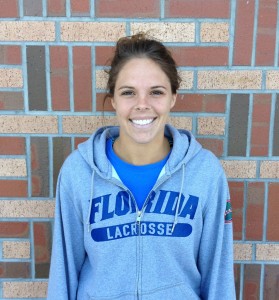 When Rockville, MD, native Kitty Cullen was deciding where to play collegiate lacrosse, she had the opportunity to play all over her home state, but chose to come to Florida and play for the Gators. Her reason for coming to Florida turns out to be pretty simple; she wanted to be part of something special.
"To be a part of a top five ranked team that came in four years ago as nothing and be a part of the history and all we have accomplished is awesome," Cullen said.
When Florida created its lacrosse program four years ago, the team never could've expected to see the success they have achieved in such a short time. However consistently finishing the season ranked in the top five is what happens when you start with great coaches and an incredible foundation of players.
Before Cullen was a headline of the first wave of Gator lacrosse players, she was named an Under Armour All-American in her senior season at The McDonogh School and was ranked one of the Top 25 Incoming Freshmen for 2009 by Inside Lacrosse Magazine.
When she was younger, Cullen played basketball, soccer and tennis, but her passion for lacrosse prevailed. As it would turn out, her aptitude for the game would as well. Her natural strength and speed were just too much for other girls to match on the lacrosse field.
"It's fun because it's on such a big field, similar to soccer but with a lot more scoring, so I think that's something I always found really fun," said Cullen. "And given some of my strengths like my speed and things it was something on the open field I could exploit."
Gator Nation has also taken notice of her game, especially a certain group of dedicated lacrosse fans. They are known as Kitty's Korner, and over the past few seasons they have helped bring more attention to the team as well as becoming friends with their favorite player.
"They're awesome, they have really spread lacrosse throughout the university and have gotten a lot more awareness of it," said Cullen. "And it's really nice to have people supporting you out there and really cheering you on."
In her final season at Florida, the Gators have a real chance to capture the young program's first ever national championship, in what would cement Kitty Cullen as being a part of something special.