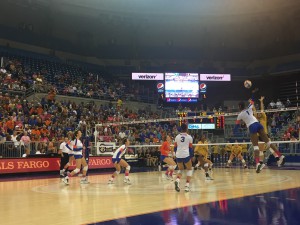 The Florida volleyball team has now improved its record to 7-3 in the SEC after sweeping Missouri on Sunday. The Gators came out strong all three sets winning 25-12 in the first, 25-14 in the second, and 25-17 in the third set.
Florida outside hitter Carli Snyder led the Gators with 12 kills and had a .435 hitting percentage. When asked about her performance Snyder says it was really just a team effort.
"It's very nice but it's also a reflection on how well we passed the ball and how well Mackenzie was distributing the ball," Snyder said.
Gators outside hitter Ziva Recek also had a great performance with 11 kills and a .429 hitting percentage. Recek says having home advantage this time around against Missouri really helped the team's momentum.
"Having this energy from the stands from just playing at home, it feels very comfortable. I think that we improved passing. We didn't pass very well at Missouri so that was the main thing we were struggling at so I think we did a better job today."
The first time the Gators played Missouri this season it went into a full five sets and the Tigers were able to win three sets to two. Florida head coach Mary Wise says she was proud of the things her team did better compared to the first match up against the Tigers.
"The biggest difference was how low error we were. We did so many good things defensively and against a great offensive team but we didn't just give away points. I thought that our team was locked in."
Next up for the Gators, they travel to South Carolina to take on the Gamecocks on Friday. First serve in Columbia is set for 7:00 PM.