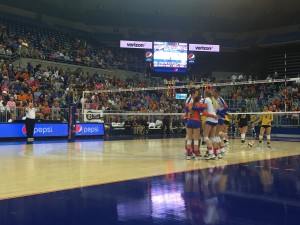 The Florida volleyball team is on the road in Columbia, South Carolina to face the Gamecocks on Friday. The Gators are coming off a great week of play as they swept both of their SEC opponents, Arkansas and Missouri.
Florida head coach Mary Wise says getting wins like those means a lot to the team.
"We are just trying to be a better team with the best version of ourselves come December and we've talked about that we are moving in the right direction and it helps sell the game plans when you see results like a win."
Going into Friday night's game, Wise spoke about what the team needs to continue doing well.
"If we can do things defensively to make other hitters uncomfortable. If we can be very efficient in our hitting between the setter hitter connection… those are things we'll keep trying to work on for the rest of the season."
This will be the first and only meeting of the regular season between the Gators and the Gamecocks. Ole Miss, Auburn, Tennessee, and Texas A&M are all SEC teams that both Florida and South Carolina have faced at least once this season. The difference? South Carolina has lost to every single one of those teams while the Gators have defeated them.
In South Carolina's last match up however, they were able to defeat Arkansas, a team that Florida has both won and lost to this year.
"SEC teams on the road are always a concern. What we'll do is take a hard look at where they beat Arkansas. This day and age, playing on the road in the SEC, throw out the records. Florida is coming to town. We know we'll get the best shot," said Wise.
First serve in South Carolina is set for 7:00 PM. Live coverage of the game can be heard on ESPN Gainesville 95.3 FM.