Washington Redskins tight end Jordan Reed was the first player to put points on the board for his team as he dove for a 16-yard touchdown in the first quarter of the Redskins 47-14 win over the Saints  Sunday.
Reed finished the game with two touchdowns and 29 total receiving yards, averaging 9.7 yards per reception. Reed's two touchdowns Sunday add to his total of five TD's in the last three games. This season is Reed's third in the league, and according to Reed all of his hard work is starting to pay off.
Reed isn't the only player on the Redskins who had an outstanding game Sunday, Quarterback Kirk Cousins threw a career high four touchdowns. Cousins' w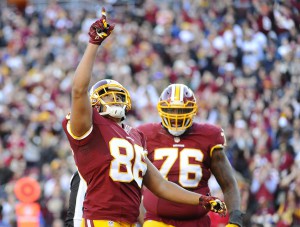 ent 20 for 25 for 324 yards and no interceptions. Reed feels that Cousins is a great leader both on and off the field.
Reed who left the University of Florida as a red-shirt junior in 2012 to enter the NFL  in 2013 has has an injury filled career thus far. Reed has missed 14 games of a possible 40 game contest in his first three years in the league. However the 2015 season seems a bit more promising as Reed continues to be the top option in the red-zone and on third downs. Reed ranks fourth out of all receivers this season as he  had seven targets inside the ten yard line.
Although Reed ended his college career a year early, he feels the intensity and competition of the SEC prepared him for the level of play that's expected in the NFL.
The Washington Redskins are now 4-5 as they prepare to take on the undefeated Carolina Panthers Sunday November 22nd.