Jacksonville (5-9) had all the momentum Sunday, but fumbles and interceptions proved too costly to earn the win against a struggling Falcons (7-7) team. The 23-13 Jacksonville loss snapped the Falcons six game losing streak Sunday at Everbank Field. The struggling Atlanta team looked like another "W" for the Jags who needed to win out to solidify their chance at a seat in the AFC South division. Jacksonville was looking to grasp that opportunity to get back into the playoffs for the first time since 2007. Those hopes are vanishing as the Falcon's hit hard in the second quarter to put an end to the hungry Jags team.
Jacksonville's linebacker Paul Posluszny, who played with a cast the entire game, says the Falcon's attack at mixing up the plays with runs a play action resulting in their win regardless of their previous record.
The Falcons looked promising this season with a 5-0 start, lost their spark mid way but seem to have found that magic in Sunday's game. Atlanta qauarterback Matt Ryan completed 22 of 35 passes for 246 yards, with a touchdown and an interception. Ryan's go to guy wide receiver Julio Jones caught nine of 13 for 118 yards and a touchdown breaking the franchise record held by Roddy White. Devonta Freeman had 25 carries for 56 yards and tacked on another touchdown for the Falcons.
The Falcons got on the board first with a five-yard run by Freeman. Jacksonville tried to answer but could not produce, a problem that remained prominent all day, as they did not convert a single third down all game. Jacksonville wide receiver Allen Robinson says their identity is not based on today's mistakes. He knows that are capable of capitalizing on third downs. Jason Myers came in for the Jags with a 42 yard field goal to put the game at 7-3, Atlanta.
In the remaining moments of the first half, Bortles threw an interception that Atlanta would turn into three. Falcons safety Kemal Ishmel grabbed the pass intended for Marcedes Lewis and ran all the way to the 16 yard line with two seconds remaining as Bortles managed to tackle him.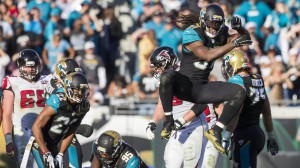 The Jaguars come out of the half fired up by the Jacksonville fans and tied up the game with back to back touchdowns. Quarterback Blake Bortles ran one in and then made the connection to Allen Robinson with a ten-yard touchdown pass to tie the game up at 17-17. Atlanta's key was field goals as Shayne Graham knocked in a 33-yarder, and then a 46-yarder after the two-minute warning.
As the door was closing for Jacksonville, Marquise Lee made a surprising catch that looked to keep the Jags in the game. Bortles couldn't make it happen with an over shot to Allen Hurns on third down and no connection to Robinson on fourth down. Bortles completed 23 of 38 passes for 297 yards, 44 rushing yards, with a touchdown and an interception. Julius Thomas had six receptions for 79 yards and Allen Robinson made three catches for 57 yards and a touchdown.
Even though it was a tough loss for their last home game, Jags running back Denard Robinson remains positive because his teammates never stopped fighting throughout the four quarters.
The Jaguars made their golden opportunity to win the AFC South playoff race difficult to see but if they win out against upcoming opponents New Orleans and Houston and get a little help they can still make a return to the playoffs. Tennessee also needs to beat Houston and Indianapolis to help swing the Jags in.