The Miami Heat (35-26) will travel to Milwaukee Wednesday to face off against the Bucks (26-38) in hopes to continue their five-game win streak. The Bucks are coming off two-straight double-digit losses and are 3-5 their last eight games.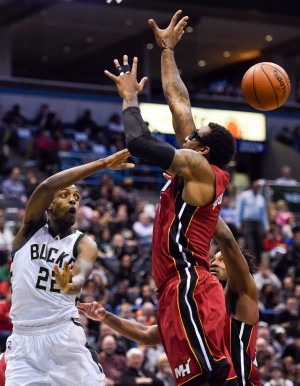 The Heat are looking to continue their dominance on defense. The Heat are second in the NBA when it comes to defense allowing only 96.9 points per game. The Bucks will have their hands full getting offensive production. The Bucks are 24th in the league when it comes to scoring averaging only 99.2 points per game. Milwaukee is lead by shooting guard Khris Middleton with 18.5 points per game.
The Heat aren't any better on offense. Miami is averaging 98 points per game good enough for 26th in the NBA. The long-time Heat star, Dwayne Wade is leading the team this season with 19.3 points per game.
The Bucks and Heat have split their first-two match-ups of the season.
The Bucks took round one winning 91-79. The Bucks ended the game with four players in double digits, including the 22 points from Khris Middleton and 15 points from Greg Monroe. Middleton also lead the team with seven defensive rebounds.
The Heat took round two winning 107-103. The Heat were lead by good offensive production from the remaining members of "The Big Three". Dwayne Wade lead the team with 24 points, and Chris Bosh shot 5-11 from the field and 8-9 from the line to add 20 points to the scoreboard.
Round three comes Wednesday night at the BMO Harris Bradley Center starting at 8 p.m.