All the attention in the NBA is on the Golden State Warriors. The Warriors just completed a monumental come back after being down 3-1 against the Oklahoma City Thunder in the Western Conference Finals and are now making their second consecutive NBA Finals appearance. The Warriors won an NBA record 73 games during the regular season and Steph Curry was the first unanimous MVP in the history of the NBA.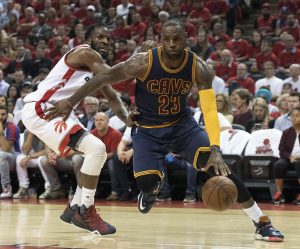 So what about the Cleveland Cavaliers? The Eastern Conference champs have essentially been overshadowed by the accomplishments of the Warriors. After defeating the Toronto Raptors in the NBA Eastern Conference Finals this past Friday, LeBron James and the Cavs have had plenty of time to practice, rest and reflect. Since it became official that the Cavs were once again meeting Warriors in the NBA finals, they have been perceived as the underdogs in the rematch.
The Warriors defeated the Cavilers last year 4-2 in the NBA finals. This time its a whole new ball game. Earlier this year Cavs Head Coach David Blatt was relieved of his coaching duties after a 34 point loss to the Warriors. Assistant coach Tyronn Lue assumed head coaching duties and coached up the Cavs to a 57-25 record. The best record in the Eastern Conference. Lue's success continued in the playoffs as the Cavs got off to 11-0 start—a NBA record for a rookie head coach to start the playoffs.
Journeyman power forward Channing Frye was added to roster. His ability to spread the floor with his 3-point shot has become invaluable to the Cavs. Almost just as important are healthy all-star point guard Kyrie Irving and power forward Kevin Love who were injured last year  during the NBA Finals and are now healthy.
The city of Cleveland is desperate for a championship and are fully behind LeBron and the Cavs. LeBron's number one goal since returning to Cleveland has been to bring the city or "The Land" a championship. Armed with two heathy all-stars, solid role players and superb coaching by Tyronne Lue and his staff, Lebron's mission of a championship in Cleveland just may be possible. Even if they are not the favorites.
12 down, 4 to go! #ALLin216 #WGUnited #NBAFinals pic.twitter.com/9Ns2WcXd0u

— Wine & Gold United (@CavsWGUnited) May 31, 2016
Audio courtesy of ESPN