Week 5 of College Football will be filled with intriguing match-ups. Although some billed the opening weekend as "the best ever," this weekend will have pivotal games that will lay the foundation for which teams will win their conference and ultimately become championship contenders.
Friday, Sept. 30: #7 Stanford Cardinal vs #10 Washington Huskies, 9:00 p.m., ESPN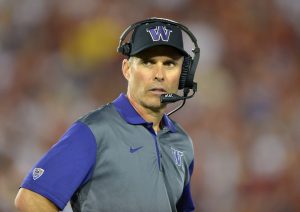 This first match-up will be the marquee game-of-the-year for the PAC-12. The winner will put themselves in the driver's seat in the conference and most likely be the best chance for a PAC-12 team to make the playoffs. For Washington, head coach Chris Peterson has a chance to cement his status in the current college football landscape as an elite coach. Peterson talked about how their game tonight is not just against a good team but against a good program. That's exactly what Peterson is trying to do himself, build a program.
Things are not the same for Stanford. The Cardinal are looking to keep their playoff hopes alive with another PAC-12 win. Up to this point of the season the team has struggled to assert their dominance. Stanford has yet to score 30 points in a single game, or prevent a team from scoring at least ten points.
Saturday, Oct. 1: #22 Texas Longhorns vs Oklahoma State Cowboys, 12:00 p.m., ABC
The Texas Longhorns made a splash by beating then-ranked Notre Dame Fighting Irish to start off the season. Unfortunately for the Longhorns, the momentum took a bit of a hit when they lost to Cal a 50-43 shootout. The BIG-12 crown is up for grabs as the preseason favorite, Oklahoma, has dropped out of mind with a 1-2 start (neither loss was to a BIG-12 school). If Texas wants to be serious about making a run for the conference title, these next two games – Oklahoma State this week, then Oklahoma next week – will determine where the Longhorns stand as a football team.
For Oklahoma State, the team lost a controversial game to Central Michigan and got beaten down by Baylor last week. Falling to 0-2 in the conference – that doesn't have a title game – would essentially end the Cowboys' hope for a BIG-12 title. Unfortunately for Oklahoma State, the home team has lost in this series each time since 2008. On a side note, the Cowboys (2-2) have never started 2-3 under Mike Gundy.
Saturday…

Your #OKState Cowboys are back at BPS! #GoPokes pic.twitter.com/o5zwqC7LHW

— Oklahoma State (@OSUAthletics) September 30, 2016
Saturday, Oct. 1 #8 Wisconsin Badgers vs #4 Michigan Wolverines, 3:30 p.m., ABC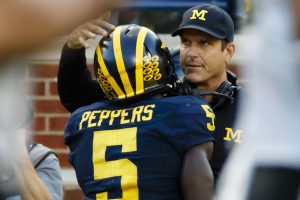 The Wolverines have physically dominated in each of their first four games as many experts believed they would. Saturday will be their first chance to face a team that has a legitimate chance against them. Head coach Jim Harbaugh says that the Wisconsin game will give them the chance to prove themselves against a physical team. The Badgers will be the toughest opponent Michigan has to play until they go to East Lansing to play Michigan State on October 29.
Despite having a 15 percent chance of winning Saturday's game – according to ESPN's FPI – the Badgers have done nothing but impress this season. Wisconsin started the season off by beating LSU in Lambeau Field; last week, they stunned Michigan State 30-6 in East Lansing. Another away game against a Michigan school suddenly doesn't seem as intimidating for the Badgers.
Saturday, Oct. 1 #3 Louisville Cardinals vs #5 Clemson Tigers, 8:00 p.m., ABC
The primetime game this week is also the biggest. The top-5 match-up between Louisville and Clemson has the highest stakes of any game so far in college football this season. The winner will place themselves firmly on top of the ACC, and will position themselves as arguably the top team in the country.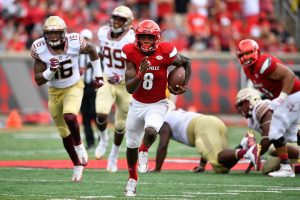 If you are wondering how Louisville got so good this year, there is just one name you need to know: Lamar Jackson. The true-sophomore quarterback is the definitive Heisman front-runner right now after scoring an eye-popping 25 touchdowns in the first four games of the season. Just to put Jackson's number in context, he's 9th in the country in passing yards (1,330), Tied for 5th in passing touchdowns (13), 5th in rushing yards (526), and leading the country in rushing touchdowns (12). What is Lamar Jackson's game plan against Clemson you might be wondering? According to him, they just need to go out and do what they have been doing all season.It sounds easy enough when you're beating teams by at least 30 points each week.
After losing to Alabama in the national championship game last year, most people believed Clemson would be right back in the playoffs knowing that quarterback Deshaun Watson was coming back. Although the Tigers are still undefeated, the team has looked pedestrian at times. Clemson started off slow with a sloppy win against Auburn – who was a hail-mary pass away from winning – and followed it up with a 30-24 win against a heavy-underdog Troy team. However, all will be forgotten if the Tigers pull off an upset at home.