Saturdays are for college football, and this weekend's matchups prove it once again. Three matchups include battles between Top-25 teams. The games we'll be previewing below are Washington-Utah (Pac-12), Nebraska-Wisconsin (Big 10), West Virginia-Oklahoma State (Big 12) and Michigan-Michigan State (Big 10).
Washington-Utah
 The Washington Huskies come into the game as a 10-point favorite over the Utah Utes, despite the game taking place in Salt Lake City. The fourth-ranked Huskies are undefeated on the season, while the 17th ranked Utes are 7-1, with a 4-1 conference record. This will be the Huskies' toughest matchup this season, and one they can't take for granted.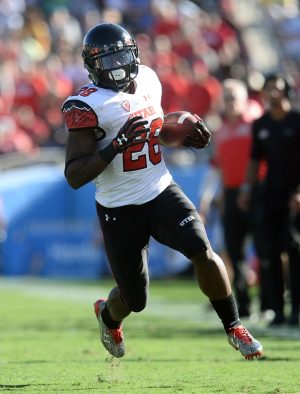 Washington averages 48.3 points per game, good enough for fourth in the country, and gives up 14.6 points per game, good for sixth in the country. With a combination of speed and physicality, the Huskies represent the perfect yin and yang of offense and defense. The Utes aren't too shabby this season either, with their only loss coming at Cal in a 28-23 defeat. While Utah hasn't beaten a ranked team this season, their 433.0 yard per game and 119.6 rushing yards allowed per game are both solid. The advantage goes to Washington in this one, but the home-field advantage will be massive for Utah.
Nebraska-Wisconsin
 Wisconsin is the home team, and are a fair nine-point favorite against Nebraska. A team whose main strength is usually their rushing offense has found quite the opposite this year. The Badgers' best skill set is their run stop, which is allowing a measly 102.9 yards per game, ranking them 10th in the country in that category. While Wisconsin's offense has been slightly above mediocre this season, averaging 382.0 yards per game, their defense has made up for it, allowing just over 300 yards per game as a team. Wisconsin has had wins over LSU, MSU, and Iowa, but have lost big games to Michigan and Ohio State. If the Badgers want to make a top-tier bowl, this game is crucial.
On the Nebraska side of things, the Cornhuskers pride themselves on defense. They are allowing 17.7 points per game, good enough for 14th in the country. Nebraska also averages 9.8 points per game more than Wisconsin, but have had a significantly easier schedule. They're undefeated, but have few good wins to show for it. Their best wins this season have come against Oregon, Northwestern and Indiana. If the 'Huskers take down Wisconsin this weekend, it will only be their second victory this season against a team that was ranked at the time of the game (Oregon was ranked #22 when Wisconsin beat them 35-32).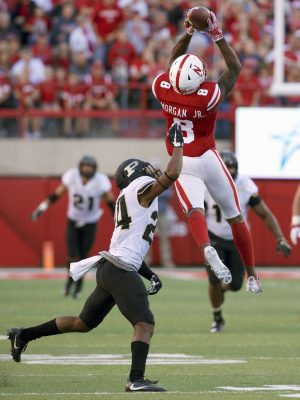 West Virginia-Oklahoma State
 In the biggest surprise of any game we've previewed so far, West Virginia is only a 4-point favorite at Oklahoma State this weekend in a Big 12 showdown. The Mountaineers are ranked #10 in the nation and are undefeated with a 6-0 record overall, and 3-0 record in conference play.
WVU can dominate you on both sides of the ball. They rank 20th in the nation in passing yards per game with 303.5 per game, rank 37th in rushing yards per game with 206.5 and rank 15th on points allowed per game with 17.8. There is not a glaring weakness to this Mountaineers team on any side of the ball. While WVU still hasn't beaten a ranked team this season, their average margin of victory is 15.2 points.
Oklahoma State are, despite what you read above, still a really solid team. They rank 11th in the nation in passing yards per game with 336.4, rank 14th in points for per game with 40.9 and allow 27.4 points per game, which is good enough for t-64th in the country. OSU is a well-rounded team that West Virginia can't take easily, especially on the road. The Mountaineers and Cowboys have only played each other seven times in school history. WVU holds a 4-3 advantage, but OSU can tie it up with a win on Saturday.
Michigan-Michigan State
 Any other year besides 2016, and this matchup would have College GameDay written all over it. Fortunately for the Wolverines, their rival is a putrid 2-5 on the season and holds an 0-4 conference record. The 2nd ranked, 7-0 Michigan Wolverines are a 25-point favorite coming into this contest.
If Michigan loses this game, it may be their worst loss since Appalachian State. The Wolverines rank 3rd in the country in points per game with 48.7, 11th in rushing yards per game with 257.1 and 1st in points against per game, allowing a measly 10.0 points per game. Michigan has an average margin of victory of 38.7 points this season, and besides Alabama, is one of the few almost for-sure shots to make the college football playoffs, barring a loss to Ohio State.
Struggling Spartans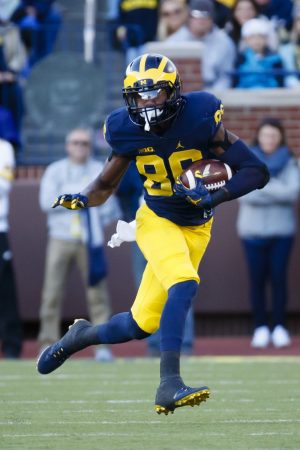 Michigan State is one of the three worst teams in the Big 10 right now, along with Rutgers and Illinois. This trio of awfulness features the only teams in the Big 10 with less than three wins. MSU finds themselves behind Indiana, Maryland, Ohio State, Penn State and Michigan. After making the college football playoffs just a season ago, the Spartans have seen a huge drop-off.
MSU's strength is their passing game, which ranks 61st in the country with 235.0 yards per game through the air. They're only scoring 23.1 points per game, good for 110th in the country, and are allowing 29.7 points per game, ranking t-80th in the nation. The team's only two wins this season came against Furman and surprisingly enough, Notre Dame. Their losses include Wisconsin, Indiana, BYU, Northwestern and Maryland. The defeats haven't been close either, with an average margin of loss of 13.2 points.
Predictions
 If I were a betting man, my picks with the spread would be Washington (-10), Nebraska (+9), West Virginia (-4) and Michigan (-25).
Game Times
 West Virginia-Oklahoma State kicks off at 12 p.m. on FOX, Michigan-Michigan State kicks off at 12 p.m. on ESPN, Washington-Utah kicks off at 3:30 p.m. on FS1 and Nebraska-Wisconsin kicks off at 7 p.m. on ESPN. Other big matchups this weekend include Auburn-Ole Miss and Clemson-Florida State.