The Oakland Raiders completed their 2016 season with a 12-4 record. The team did make a turnaround, as they made it to the playoffs for the first time in 14 long years. Oakland's quarterback, Derek Carr, suffered a broken fibula in his right leg in the regular season, which was a disappointment to both him and his team. Without their quarterback, there was little confidence that Oakland would make it out on top against Houston and its No. 1 ranked defense. Indeed, the team fell 27-14 in the Wild Card round. Carr says that he would have been able to play had his team made it to the Super Bowl. That being said, Carr is confident that he'll remain healthy enough to participate in minicamp, which the Raiders hope leave them off to a good start in the 2017 season.
Keep you're heads up @RAIDERS. Proud of what you accomplished this year.

— Justin Tuck (@JustinTuck) January 8, 2017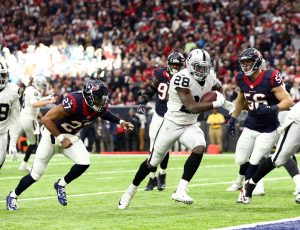 To Re-sign or Not to Re-sign Latavius Murray?
Perhaps the most important priority of general manager Reggie McKenzie is to make decisions about his pending free agents. Seventeen players leave the team to free agency this spring — 13 of the unrestricted variety. Despite Carr's backing of RB Latavias Murray, it is not clear if the team will sign him. Murray, a sixth-round pick of the raiders in 2013, would like to stay where he is in Oakland. "I think it says a lot for any player who stays in one place," he told reporters. That being said, Murray understands that things may not work out in his favor. Derek Carr is a sure thing to return, but question marks still exist around the 13 UFA. Will the Raiders remain dedicated to keeping Murray on the roster?
Room for Improvement
Raiders' head coach Jack Del Rio explained that one of his team's greatest weaknesses is the defensive interior. While the defensive edges are not of his concern, Del Rio sees room for improvement elsewhere. He feels it is necessary for the health and talent level of the defensive interior to be upgraded prior to next season. With the return of a healthy quarterback, a successful outcome of free agent decisions, and an improved defensive interior, Del Rio and the Raiders hope to find themselves competing in Super Bowl 2017. The team is already excited for next year.