The Georgia Bulldogs (13-10, 4-6) will host the No. 17 Florida Gators (18-5, 8-2) Tuesday night at the Stegeman Coliseum.
Against the Gators
This is the second time the two teams are meeting this season.  Georgia led for much of the mid-January game in Gainesville, but the game ended in an 80-76 O.T. loss for the Dawgs.  Georgia led for over 35 minutes in that game, but they were ultimately unable to hold the Gators off.  J.J. Frazier led the team with 25 points.  Juwan Parker also had a good game, scoring a career-high 17 points.  Yante Maten put up 15 points but had to hit the bench early when he fouled out after 19 minutes of playing time.
Game On
Tuesday's game will be the Bulldogs' third straight against a top-three SEC team. They previously fell to both South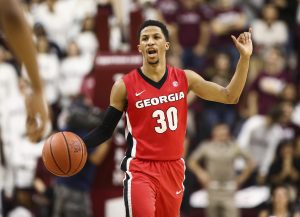 Carolina and Kentucky.  The Bulldogs had a good showing against the Gamecocks, but were unable to pull away at the end.  The 77-75 loss for Georgia featured Frazier and Maten scoring 18 points each.
"The unbalanced schedule is giving us lots of challenges, but also lots of opportunities this year," said head coach Mark Fox. "I'm not sure that there's a way to balance the schedule ever.  But this year, [Florida, Kentucky, and South Carolina] are all terrific and we've played them all on the road already.  Our kids understand in this league, there's a lot of battles.  There's no easy games, and certainly we have one of the hardest schedules. But again, that also brings great opportunity."
Georgia will look to guard-forward duo Frazier and Maten, who rank tenth in the country in scoring combos.  The two average just over 35 PPG together.  Earlier this week, Maten became one of ten finalists for the Kareem Abdul-Jabbar Award.  The honor is given to the nation's top center every year.
Sophomore forward Derek Ogbeide is coming off of a solid week, despite his team's two losses.  He put up 18 points and 13 rebounds last Tuesday against Kentucky. His defensive dominance has produced seven games with 10-plus rebounds.  He ranks third in the league in rebounding against SEC teams with 7.6 RPG.
Coverage
You can find game coverage on ESPN 2.  Tipoff is set for 7 p.m.