Recap
The University of Central Florida men's basketball team defeated the Illinois State Redbirds last night in Normal, Illinois to advance to the quarterfinals of the National Invitational Tournament. The Redbirds were the No. 1 seed of region three while UCF was No. 4. It was an impressive win by the Knights as they showed resiliency. Illinois State were able to take a quick lead over UCF. But despite a 13-point deficit going into the second half, the Knights remained strong to squeeze out a victory by a point.
Wake up with highlights from last night's win at Illinois State.#ChargeOn pic.twitter.com/ZkT33wv16X

— UCF Men's Basketball (@UCF_MBB) March 21, 2017
B.J. Taylor Spearheads UCF Attack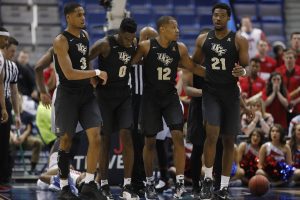 UCF's scoring attack was lead by Sophomore guard B.J. Taylor who played for 40 minutes. Taylor, the Orlando native, had 22 points, 5 assists and went 11 for 11 from the line. Additionally, he was clutch down the stretch hitting a pair of free throws that would put his team up by one. His two go-ahead makes would eventually be the final score of the game as the Redbirds only had 1.2 second remaining to answer. With no timeouts, Illinois State heaved a desperation three from nearly the length of the court to no avail. Taylor said when the game came down to it, he wanted the ball in his hands.
The second-year guard for UCF has been a big part of his team's success all year. He averaged a team high of 17.6 points this season, and added four rebounds and 3.6 assist per game. However, Taylor wasn't able to do it alone. His back court mate, senior guard Matt Williams also played the entire game. Williams added 15 points and 4 rebounds to his team's tally, and was 5 for 9 from beyond the arc. The tandem have carried the scoring burden for their team all year, as Williams was the second leading scorer for the Knights averaging 15 points a game.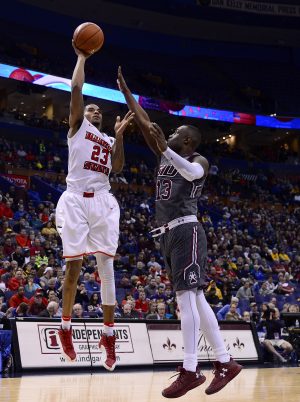 Contributing to the win, UCF center Tacko Fall had 8 points and 14 rebounds. Junior guard A.J. Davis logged 38 minutes and 11 points. UCF head coach Johnny Dawkins said he was proud of his team's effort.
For the Redbirds, senior forward Deontae Hawkins lead his team with 15 points. Although his team had control of the game early, they were unable to stop the Knights' second-half surge and fell short at home.
Looking Forward
The Knights should be proud of the way they played as they faced a deficit down the stretch. Playing the No 1. seed in their region in front of a hostile crowd on the road is not an easy task for any team. But with the gut check win the Knights look to carry their momentum to the quarterfinals. They'll play the Illinois Fighting Illini in front of their home crowd in Orlando tomorrow.