At the end of 2016, the Chicago Cubs made history. For the first time in 108 years, the World Series trophy landed in Wrigleyville. Coming off such a historic run, the Cubs are nowhere near finished. As the 2017 season quickly approaches, the Cubs are prepared to do it all again.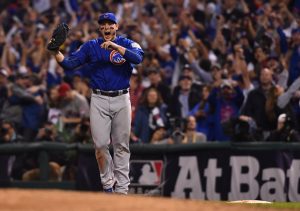 History is Made
The Cubs' World Series win last season was nothing short of exciting. After an insane and rainy 10-inning Game 7 against the Cleveland Indians, Chicago put their fans out of their misery and completed the impossible. While this World Series title is something that will be remembered seemingly forever by all Cubs fans, first baseman Anthony Rizzo knows it is time to start leaving those memories behind. Rizzo says that while the team will always honor that accomplishment, it is time to look forward to the 2017 season. According to manager Joe Maddon, the team is ready to shift their focus forward with a healthy amount of confidence.
Starts from Day One
For all 30 clubs, spring training is where the season begins. It provides a time for players to fine-tune their technique and bond with their teammates. It allows clubs to prepare for the regular season, as well as learn how to handle obstacles, such as injuries. The Cubs see things no differently. The offseason allowed the team time to celebrate, relax and recharge for the 2017 season. However, the team is ready to flip a switch and move forward. Rizzo explains that every year, a new run begins on day one. Each team is striving towards the same goal from the start. The Cubs will be preparing to defend their title.
Mesa mornings. #MondayMotivation pic.twitter.com/EoguCWnqWo

— Chicago Cubs (@Cubs) March 6, 2017
Satisfaction Hard to Come By
As a true competitor, it can be hard to find satisfaction. With a constant goal of winning, a feat as large as a World Series title is still not always satisfying. Chicago is ready for another title and knows their capabilities. The Cubs are ready to return to the top. However, manager Joe Maddon is aware that while confidence is good, every run is different. Each season brings new faces and new challenges. The team is not simply expecting things to fall into place. The Cubs are ready to defend their title, and they are ready to fight their way back to October.