The 2017 NFL Draft will showcase some of the most talented athletes on the planet as they transition from collegiate to professional football. All eyes are on the Cleveland Browns, the team that holds the NFL's worst 2016 record and subsequent top draft pick. Pro Football Focus Senior Analyst Steve Palazzolo says the Browns should take Texas A&M DE Myles Garrett, despite many fans speculating that Cleveland will draft a first round quarterback for the fourth time since 2007.
First Round Question Marks
The Browns have already seen the results of passing on the best player available, and neither Brady Quinn, Brandon Wheeden, nor Johnny Football provided the franchise with long term success. However, Palazzolo says Cleveland is using smoke screens in order to generate interest from teams that are willing to overpay for the coveted first pick.
Palazzolo says the 49ers should use a similar tactic. "If you're the Niners, you're in a spot where you really want to trade down, because I don't think there's a clear number 2 (pick)."
With all of the measurements and numbers coming out of NFL Combine and Pro Day performances, Palazzolo says game film is still the determining factor in where a player will end up. However, he noted that Combine numbers are a double-edged sword: they can support game film, or bring players' abilities into question. Another concerning topic is players getting in trouble with law enforcement, which is all too common in professional football. According to Palazzolo, teams take criminal activity very seriously, and certain questions at combine interviews are meant to gauge players' temperaments.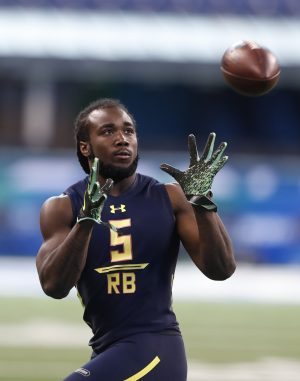 Jags, Bucs, and 'Phins
As for Florida teams, Palazzolo hinted at a possible reunion between FSU's Dalvin Cook and current Buccaneers quarterback Jameis Winston. "He's just a game-changer with the ball in his hands." Palazzolo said of the dynamic tailback. "Such good speed to the edge, he can catch the ball out of the backfield". Tampa Bay holds the 19th pick of the first round.
As for LSU's Leonard Fournette, who some consider to be the best running back available, Palazzolo said he isn't sold on the hype. He also said the Jaguars would be better suited focusing on their defense with the fourth overall pick.
The Miami Dolphins will draft 22nd overall, and Palazzolo says they need youth on the defensive line, a position that's plentiful in this draft.
The 2017 NFL Draft will take place April 27-29 in front of the Philadelphia Museum of Art at Eakins Oval.