The Florida Gator softball team finished their 2017 season in Oklahoma Tuesday night.
Now, the team will say their farewells to three seniors, welcome in six freshmen and prepare for the 2018 season.
Goodbyes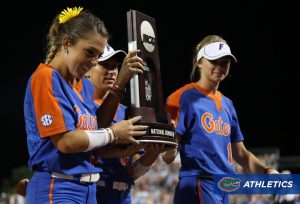 Delanie Gourley pitched her last game for the Gators on Tuesday after relieving Aleshia Ocasio in the bottom of the second inning. Gourley threw 127 pitches in Game 1 and 104 in Game 2.
Gourley finished her senior year with an ERA of 0.71, a 22-4 record and a total of 254 strikeouts.
She will now take off her Gator jersey and switch it for a USA jersey to represent her country on the Women's National Softball team.
The Gators will also say their goodbyes to outfielders Chelsea Hernden and Justine McLean.
Herndon capped her last game with a solo home run in Game 2 on her 22nd birthday. She had a batting average of .256, 31 hits 14 runs and five home runs in her senior year. McLean had a batting average of .301, 55 hits, and 43 runs.
Gourley and McLean were named to the 2017 WCWS All-Tournament team.
https://twitter.com/justinemcleannn/status/872482391977336832
New Faces
As three players depart,  the Gators will welcome six incoming freshmen next season.
Head Coach Tim Walton signed one of the top incoming freshman classes in the country, including a duo of current U19 Team USA players and a pair of power-hitters.
Shortstop Hannah Adams is tabbed as the No. 10 player in the country according to FloSoftball Top 100 rankings.
Pitcher Natalie Lugo, who played for the travel team OC BatBusters, will be joining reunited with former BatBusters teammates Amanda Lorenz and Sophia Reynoso. Lugo is listed as the No. 22 player in the country.
Both Adams and Lugo will represent Team USA in the Women's Junior National Team.
The other incoming freshman for the Gators are Jordan Matthews, Josie Page, Danielle Romanello, Haven Sampson.
Players Returning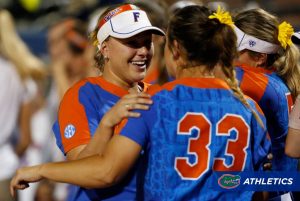 Although the team will no longer have Gourley, pitcher Kelly Barnhill will be returning to the Gators. Barnhill finished the season with an ERA of 0.51, the best in the country, along with 359 strikeouts. She was also named USA Softball Collegiate Player of Year.
Amanda Lorenz told Walton last year that the outcome of the Super Regional would be different in the 2017 season. Lorenz is Florida's top hitter and she had an emotional post game interview after their game two loss. Now Lorenz will return as a junior next year with a different goal in her mind: to win the WCWS.
Lorenz batting average is the top of the line coming in with a .388.  She had 76 hits for Florida, 60 runs and 11 home runs just as a sophomore.
In addition to Barnhill and Lorenz, Reynoso, Ocasio, Janell Wheaton, Kayli Kvistad, and Nicole DeWitt will be returning for the 2018 season.
Florida Stats
| ERA | Strikeouts | Fielding % | Batting Avg. | W-L |
| --- | --- | --- | --- | --- |
| 0.81 | 683 | .985 | .299 | 58-10 |