"I need to sit down and figure this out" -LeBron James
With the help of the home-crowd, the Golden State Warriors turned a fourth quarter 3-point lead into a comfortable 14-point lead—And 1:20 left in the game.
The Warriors would go on to defeat the Cleveland Cavaliers 120-129 and capture another NBA Championship. Making it their second title in three years, preventing a repeat of last year's 3-1 series lead. The Cleveland verses Golden State match-up, in the NBA Finals, has been the same for three consecutive seasons. However, there was one change to the Golden State roster the last two meetings did not have.
The addition of Kevin Durant.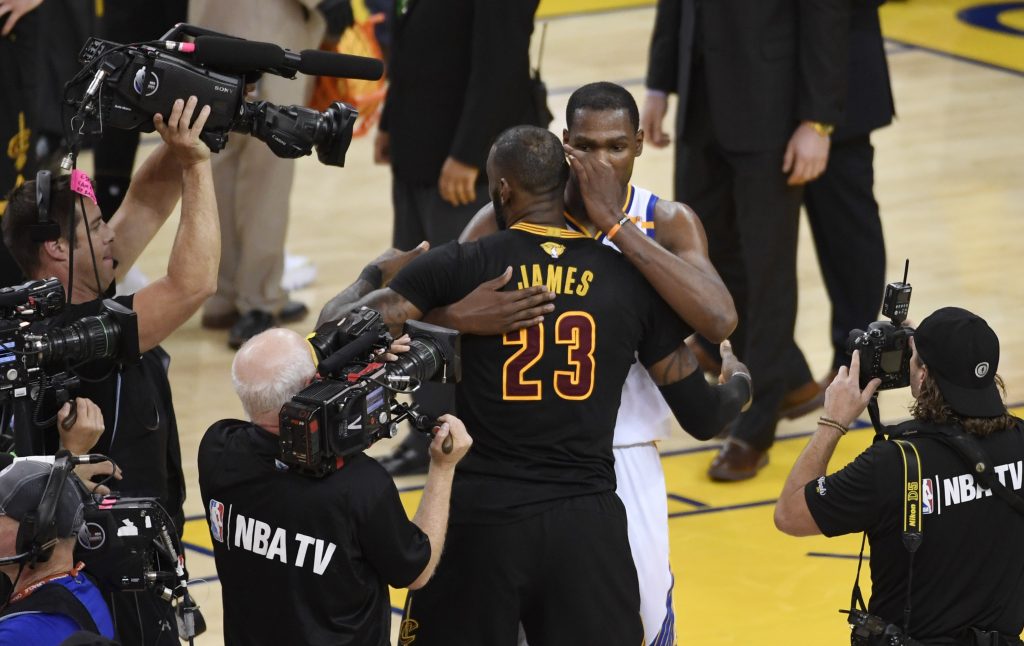 Durant now has his first NBA Title, after leaving the Oklahoma City Thunder for Golden State this season. The Warriors' roster now has four Olympic Gold Medalists, three players averaging more than 20 points per game, one Defensive Player of the Year, two Most Valuable Players, and two of the best three-point shooters the NBA has ever seen.
It took that loaded and talented roster to stop Cleveland's 32-year-old LeBron James.
There's no sign of the Warriors stopping anytime soon, LeBron James is not getting younger, and there are teams that would love to acquire James.
If he ever decides to leave Cleveland.
What's Next For The LeBron and Company?
LeBron James may have a losing Finals record (3-8) but he is the first player in NBA history to average a triple-double in the finals (33.6 points, 12 rebounds, 10 assists.) Despite the feuding throughout the game several times, James was spotted embracing and congratulating Durant as the confetti was falling in the Oracle Arena. There has been talk that the James and Durant embrace is somewhat symbolic. Is it foreshadowing "the King" nearing the end and passing the torch to the next big thing?
With James being in the league for 14 season, how much longer does he have on the court? Golden State's roster and big four are primarily in their twenties and do not seem to be slowing down. How will LeBron James and Company compete against this team, if they meet again in the NBA Finals next season. Does LeBron decide to leave Cleveland again once his contract is up? Would he ever leave his home of Ohio for another team? If so, what team?
Those are all questions spectators will be debating on during this offseason.