Nearly one year after Minnesota Vikings quarterback Teddy Bridgewater was taken into an ambulance for a dislocated knee and torn ACL, he is on the road to recovery. Bridgewater is slowly inching toward a return to football and is on the comeback trail to the game he loves.
Hey Teddy! https://t.co/5oYidcHyWQ pic.twitter.com/IxRQgbwuIa

— Minnesota Vikings (@Vikings) May 23, 2017
Bridgewater's injury came about after a drill in training camp last year. The injury would occur when Bridgewater stepped back awkwardly during a passing drill; he severely injured his knee and the quarterback's future would be the subject of a lot of doubt leading in to the 2016 NFL regular season.
The Start of the Comeback
After the Vikings' practice on Thursday, Bridgewater would speak in detail about the injury and how he is recovering.
He said the toughest part about being injured is not playing. He also discussed how not being on the field "does something to you" but says that in a positive light. The former Louisville standout would also answer questions about his progress in recovery. He would relieve all doubt, stating it's been all progress and that "slow progress is better than no progress."
Bridgewater is using the conversation about continuing his NFL journey as motivation to return even stronger, as well as the support that he has received from the fans. That support has been another key factor in motivating him during training camp and a hopeful return under center for Minnesota.
https://twitter.com/Vikings/status/890618271082336256
Bridgewater also said he gets his fighting spirit in part from his mother who fought through breast cancer. Bridgewater says he comes from "amazing DNA" and how he is a fighter.
https://twitter.com/Vikings/status/890644228438622208
The former starter is taking his recovery one day at a time and is looking at his recovery on a day-by-day basis. He is also using this recovery time to "learn his body all over again" which he finds as an enjoyable opportunity.
Bridgewater would talk about being in this for the long haul and constantly trying to be the best version of himself that he can be. He also has taken appreciation for the support that he has been receiving which has helped him have "more good days than bad."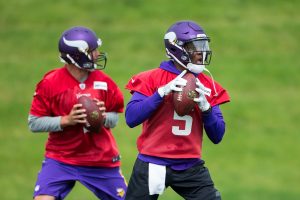 Vikings Opening Game Info
The Minnesota Vikings make their 2017 season debut on September 11 when they host the New Orleans Saints. The game takes place live from U.S. Bank Stadium in Minneapolis.  For Vikings fans, the hope is that Bridgewater will continue to rehab his injury and be ready to play soon.