Charlie Strong has had a very inconsistent collegiate coaching career. He has spent time coaching at Florida, Texas A&M, Southern Illinois, Ole Miss, Notre Dame, South Carolina, Louisville, and Texas. He acquired his first full-time coaching gig as a wide receiver coach for Southern Illinois in 1986, and then moved on to become the defensive coordinator for South Carolina in 1999. Strong swapped SEC schools in 2003, where he became the defensive coordinator for the University of Florida. He stayed with the Gators until 2009, when he was finally offered a head coaching position for Louisville. He went 37-15 in his four seasons at Louisville, including a combined 23-3 during his final two seasons for the Cardinals. Strong then went to the University of Texas in 2014, but failed to meet expectations by going 16-21 in his three seasons at the helm. Now, with little to lose, Strong is embarking on a new chapter of his career with the University of South Florida.
Slow Start but Strong Finish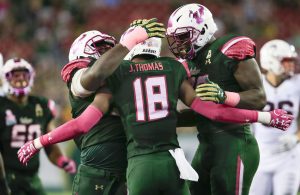 The South Florida Bulls opened their season on Saturday night on the road with a 42-22 victory over the San Jose State Spartans. A slow start by the Bulls led to 22 total yards, a punt blocked, and a 16-0 Spartan lead after the first quarter. After that, it was all South Florida. They outscored San Jose State 42-6 over the final three quarters, including a dominant 28-point, 271 yard second quarter.
Senior quarterback Quinton Flowers went 11/23 for 212 yards and two touchdowns. D'Ernest Johnson led the rushing attack with 22 carries for 99 yards and two touchdowns. Marquez Valdes-Scantling led all receivers with 6 catches for 91 yards. The passing attack was very balanced, with seven different players making a reception on the day.
The defense held its own for the most part. They forced San Jose State quarterback Josh Love into three interceptions. However, the defense did have its deficiencies. The Bulls only forced one sack on the day, compared to San Jose State's three. They also allowed the Spartans to accumulate 387 total yards, including 278 in the air and 109 on the ground.
Strong's Message:
After a dominating win, Strong knows it's easy to get complacent, but he had a strong message for his team.
In football, unless generational stars like Aaron Rodgers or Tom Brady are on the team, there isn't one player that can single-handedly will a team to victory. Certain players have more of an impact than others, but football consists of a complete team effort and performance. Each position and player have their own role and job to complete, and Strong has emphasized this important aspect to his players.
What's Next?
South Florida opens their home schedule next Saturday at 4 p.m. as they take on the Stony Brook Seawolves. The Bulls have won nine of their past ten games going back to last season. They also currently hold a national record for the most consecutive games with 30 or more points.
https://twitter.com/USFFootball/status/901633749216923648
After an 11-2 record in 2016, USF football seems to be on the rise. Only time will tell if Charlie Strong can have the same impact with USF as he did with Louisville.