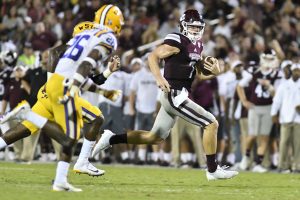 This SEC match up is full of excitement from the mascots on the sidelines to the players on the field. Both teams are hungry to improve on their undefeated records with Mississippi State coming off a big beat of the LSU Tigers last week. The Georgia Bulldogs are 3-0 as well beating all three opponents by at least nine points.
Coach Mullen Leads Mississippi State
Head Coach Dan Mullen of Mississippi State is looking to make this week a game that is a statement for his team. Mississippi State is just at the beginning of their tough SEC schedule this year and Mullen is preparing his guys for tough games ahead.
Mullen and his team had a big win last weekend but says that his coaching staff has worked to keep his team focused to strive for excellence.
Mississippi State's offensive line has only allowed one sack over the last three games and this trend should be helpful against Georgia's impressive defensive line on Saturday. State's defensive line will also be a key component in this game with stand-outs Gerri Green, Fletcher Adams and Marquiss Spencer are key components to stopping Georgia's run game.
Georgia looks to defend Sanford Stadium
Coach Smart and his team are going into the game this weekend with a 3-0 record. Coach Smart says that he hopes his team is not complacent with their play after their last few wins.
Georgia's team is led by a freshman quarterback Jake Fromm who showed some of his age in the Samford game last week. Coach Smart said that his coaching staff has worked with Fromm in his play-making decisions to prevent situations like the fumble last week. The quarterback on the other sideline, Nick Fitzgerald, is a dual threat that the Dawgs have been preparing for moving into the game this weekend.
The Match-up Tomorrow
This SEC showdown will be tomorrow at Sanford Stadium and kickoff will be at 7:00 PM.