The Wild Cards are in and the stage is set. The best of five series begin for the American League Division Series tonight. Starting on a good note could not be more crucial – the Game 1 winner in the best-of-five series has gone on to win 71 percent of the time. The Red Sox and Yankees are the two teams with a lot of history in the playoffs, while the Astros and Indians are looking to cap on outstanding regular seasons. Houston and Cleveland will also look to accomplish feats that both franchises have not done in recent years.
Game 1: Yankees at Indians
The New York Yankees finished out with the Wild Card win on Tuesday to now match up with the defending AL Champion Cleveland Indians.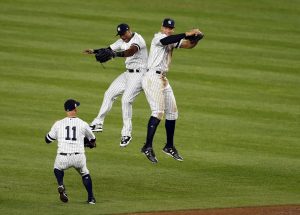 The Yankees are hoping to win their first playoff series since 2012, while the Indians just want to get back to the World Series again. If Cleveland gets there, they'll look to win it this time – for the first time since 1948.
In the regular season, the Indians won five of seven games in two different series in August. Three of those wins came early, during Cleveland's 22-game winning streak. They swept in Yankee Stadium after a rain out on the second game of the series forced the teams to play a double header the next day.
Pitching match up: Trevor Bauer vs. Sonny Gray.
Many expected to see AL Cy Young favorite Corey Kluber as the starter in Game 1, but manager Terry Francona wants to keep him on his 5-day rotation. There's a good chance Bauer could be ready for Game 4, and Francona has confidence in Bauer and his maturity for this stage. 
"They got a lot of guys that hit for power, that got some scrappy guys that put the ball in play and they run, some veteran guys…leadership," Bauer said. "You have to be able to do a bunch of different things as a starting pitcher to be able to handle all the different types of hitters they have."
With the Yankees going with Gray, they'll have a guy on the mound who has had playoff experience. Gray said he's excited for the challenges and enjoys playing in a high-energy atmosphere. 
Game 1: Red Sox at Astros
Houston won the overall regular season match ups with Boston, finishing 4-7 against them. It's expected to be a close series considering all of the games, aside from one lopsided 10-run win by the Astros, were separated by only three runs.
The Astros have a lot to prove this post-season: they've only competed in one World Series in franchse history (2005 loss to the White Sox) and there's expectations to fulfill
the 2014 Sports Illustrated cover that predicted they'd win the 2017 World Series.
The series can expect a lot of excitement, considering both team have explosive offenses. Pitching in this series will be one of the most competitive out of any playoff this year, with well-known starters and top relievers.
Pitching match up: Chris Sale vs. Justin Verlander
Chris Sale has had a standout first season with the Sox, leading the MLB in innings (214.1) and strikeouts (308). He holds a 2.90 ERA in 32 starts, he went 17-8 with a 2.90 ERA. He led the majors in innings (214.1) and strikeouts (308).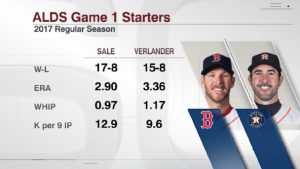 Sale said he feels he and this team are ready to rise to the occasion. On the other hand, Sale hasn't started in a playoff game since his college career at Florida Gulf Coast. All eyes will be on Sale to see how he handles the pressure.
Justin Verlander has been here a time or two when he was with Detroit and can bring experience and poise to his starts. He holds a 1.76 ERA in his past eight post-season starts.
Red Sox manager John Farrell recognizes the talent they'll be up against in Verlander and the rest of the Astros' bullpen.
When To Watch
Yankees vs. Indians: ET 7:38 PM Thusday, Oct. 5 on FS1
Red Sox – Astros: 4 p.m. ET Thursday, Oct. 5 on MLB Network