The grind of the Gators' non-conference schedule is in full swing as Florida prepares for their third game in just seven days. Today at 6 p.m., UF takes on the New Hampshire Wildcats of the America East Conference.
New Hampshire is 1-1 on the season with a 56-point win over Wheelock College, a Division 3 school with just 811 undergraduate students, and a 28-point loss to the Texas Longhorns. Florida is currently 2-0 on the season with an average margin of victory of 41 points per game. Sunday evening's match-up is considered a campus game in the lead up to the PK80 Tournament in Portland, Oregon during Thanksgiving weekend.
Sup K5 (@K5allen1) pic.twitter.com/NT6IsvWbYd

— Gators Men's Basketball (@GatorsMBK) November 18, 2017
Probable Starters (UF)
Chris Chiozza (7 PPG, 6.5 RPG, 6 APG)
KeVaughn Allen (13.5 PPG, 5.0 RPG, 46.2% 3-PT)
Egor Koulechov (23 PPG, 7 RPG, 5 APG)
Keith Stone (3.5 PPG, 60% FG)
Kevarrius Hayes (6.5 PPG, 4 RPG, 1.5 BPG)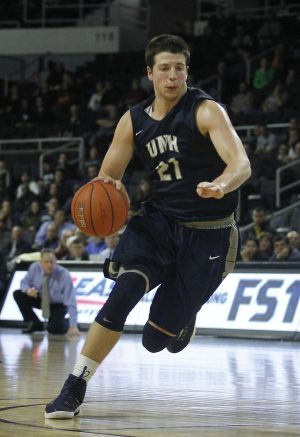 Probable Starters (NH)
Elijah Jordan (6.5 PPG, 4.0 RPG, 4.0 APG)
Jacoby Armstrong (13.5 PPG, 78.6% FG, 60% 3-PT)
Jordan Reed (6 PPG, 4.5 RPG)
Tanner Leissner (18 PPG, 10 RPG)
Iba Camara (11 PPG, 8 RPG)
What To Watch For
Objectively, there are only two Wildcat players the Gators need to stop to secure a comfortable victory over New Hampshire. One of them is 6'7″, 230-pound forward Tanner Leissner. Leissner is a senior at UNH and has averaged over 29 minutes per game in each of his four years at New Hampshire. He finished with 14 points, 6 rebounds and 1 block against Texas, but only shot 3-13 from the field. If the Gators can force double-teams upon Leissner and pressure him into passing the rock, they'll be on to a good start.
The second player to watch for on UNH is fellow senior Jacoby Armstrong. Coincidentally, Armstrong is also 6'7″ and 230 pounds. He has shot a solid 46.3% from the field during his career at New Hampshire and went 3-5 from the beyond the arc en route to 11 points vs. Texas in the team's most recent contest. The way to stop Armstrong is to force him off the three-point line and take away his long-range jumper.
News Of Note
The Gators have squared off against the Wildcats three times in program history. Florida and New Hampshire played a three-game series between 1999 and 2001, with UF taking all three games. The Gators won each of the games by at least 48 points.
How To Watch/Listen
Sunday's game tips off at 6 p.m. and can be seen on the SEC Network with Dave Neal and Pat Bradley on the call. As always, you can listen to the game on the Gator IMG Sports Network with Mick Hubert and Mark Wise on the call. You can also hear the game on Sirius 108 and XM 190.