For the third year in a row, the Clemson Tigers are ACC Title winners. Going into the game, many expected a hard-fought battle between the Tigers and the Miami Hurricanes.
After all, the similarities between the two were glaring. Both Clemson and Miami started the year with new quarterbacks who continuously led their respective team to wins over highly ranked teams. Each team also only suffered one loss –  to unranked conference opponents. But, once they took the Bank of America field, Clemson shined over the 'Canes.
ACC Title Game is Familiar Tiger Territory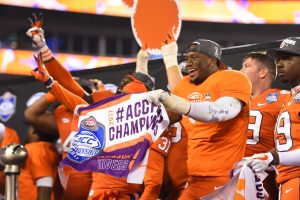 Although Clemson came in with a record of 11-1, there were some close calls throughout the season. Against NC State and Auburn, the Tigers only won by a touchdown.  But, they did have one major advantage over Miami. Back-to-back appearances in the '15 and '16 conference championship games gave Clemson the opportunity to look back on past mistakes and pounce on Miami.
And pounce they did. The Tigers allowed just 214 yards and a field goal from the Hurricanes. They also forced three turnovers by the team that became famous for making other teams turn over the ball.
By the third quarter, Clemson even mocked Miami's flashy "turnover chain".
Clemson players mocking the Miami "turnover chain." pic.twitter.com/FVMsXewYOA

— Aaron Torres (@Aaron_Torres) December 3, 2017
Coach Dabo Swinney was proud of the way his boys played. Listen to what he said below.
In an "anybody's game" conference championship, winners will tease out any upper hand to get ahead. In this case, the Clemson Tigers did just that, and ended up winners.
It's Not a Game Without the Players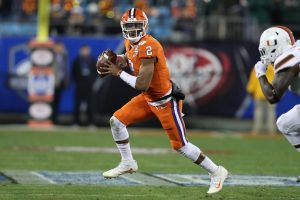 Just because Clemson had competed for the ACC Title before did not mean that all of its players got the full competition experience. Quarterback Kelly Bryant watched Deshaun Watson win two ACC MVP titles before getting his own chance to make an impact.
When he got his chance, though, Bryant even outperformed Watson in some areas. He completed 23-of-29 pass completions, which was much more efficient than Watson's 23-for-34 in 2016.
Bryant also passed for 252 yards and drove a 27-yarder into the endzone for a touchdown.
His great effort paid off. In addition to three consecutive ACC Titles, Clemson also left Charlotte with three consecutive MVP awards given to their quarterback.
Other impact players  included a three-man running back rotation of Travis Etienne, Tavien Feaster, and Adam Choice. Each rushed for a touchdown.
Defensive end Christian Wilkins also had himself a night with seven tackles, including 1.5 for loss, and two pass deflections.
All This Begs the Question: IS Miami Back?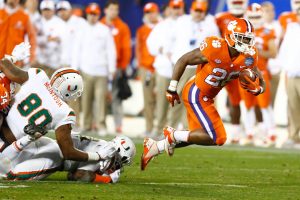 Against Clemson, it certainly did not look that way.
Just two weeks ago, the Miami Hurricanes had a perfect record and ranked only under Alabama in College Football Playoff Rankings. The Clemson Tigers sat one spot below them, with one loss to unranked Syracuse on their resume. But, one week later, the 'Canes were swept away by Pitt. (Interestingly enough, Pitt also beat Clemson last season).
Between the turnover chain and chants of "The U is BACK," ad nauseam, Miami had a standard to meet at the ACC Title game.
But, a typically collected Malik Rosier seemed jittery on the big stage. The quarterback completed less than half of his passes, threw two interceptions, and ended the night without a touchdown.
Unlike Clemson, Miami had zero experience competing for a conference title. They also did not have the drive of a team who craved a playoff spot. One week after the Pitt loss, Miami looked just as sluggish and out of character on the season. Clemson is not Pitt, though. The Tigers did play like defending National Champions, but the Canes hardly put up a fight. Their only score of the night was a 22-yard field goal. Another attempt was missed.
Either way, the 'Canes still have a 10-2 record. But, if they want to win their bowl game, Miami should look back at their Notre Dame tape and forget about this two-game skid.
Bowling Season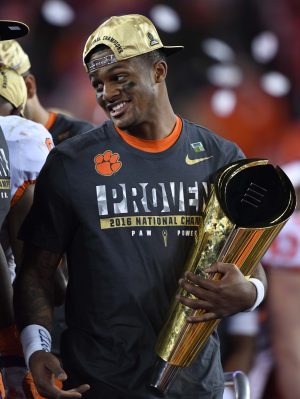 The ACC Title win was enough to keep Clemson at the top spot in the College Football Playoff Rankings. Next up, the Tigers will take on the Alabama Crimson Tide in the Sugar Bowl. Last year, a last-minute drive topped 'Bama and earned Clemson a National title. This year, they enter as 1.5 point underdogs against the Tide, who failed to make it to the SEC Championship. But, only one of last year's top teams will get a chance to compete for the title again.
After the loss, Miami ranks 10th and will play the sixth-ranked Wisconsin Badgers. Wisconsin's first loss of the season came during the Big Ten Championship. So, with both teams having something major to prove, this year's Orange Bowl should be exciting.