A Tale of Two Slumps
The Wildcats and Bulldogs have combined for a record of 3-7 in the last 10 games. The last time Kentucky fell out of the AP Poll Happy by Pharrell Williams was the No. 1 song on the Billboard Hot 100 and all of the team was in high school.
"They're all different," Kentucky head coach John Calipari said when asked to compare his 2013-2014 squad to his current roster. "You guys should know every team I have here is different and it's a different process. It's different steps. The lesson plan at the end of the year is thrown out."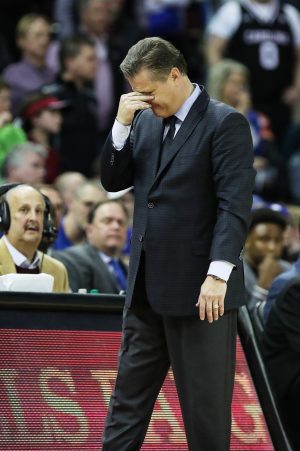 Bench points, three-point field goals made against and turnovers are some factors that are contributing to Kentucky dropping three of its last five games.
Bench Points
Over Kentucky's last five games, the Wildcats' bench has been outscored by a total of 24 points. That's an average of almost 5 points per game. Kentucky's short-handedness and lack of production from the players they do bring off the bench has handicapped them when facing deeper teams.
Opposing Threes
Kentucky is shooting better than its opponents from beyond the arc in terms of percentage these last five games (27.5 vs 26.4). But, teams are attempting and making more threes than the Wildcats. Kentucky is averaging close to four three-point makes to almost 14 attempts while opponents are averaging almost 6.5 makes to 24 attempts. Simply, teams are outscoring Kentucky by an average of 7.5 points from long distance.
Turnovers
The Wildcats have also averaged almost 14 turnovers a game over this 5-game stretch. They are turning the ball over five more times per game than their opponents. By turning the ball over more, Kentucky is taking scoring opportunities away from its team.
As for the Bulldogs, it seems to be a bit easier to see why they have dropped four of their last five contests. They're playing against competition better than that of November and December.
https://twitter.com/HailStateMBK/status/955914744547938309
Ben Howland's group has just one RPI Top 50 win in Arkansas. The rest of Mississippi State's wins are against teams no better than 96 in terms of RPI. Three of its four losses in the last five games came at the hands of teams ranked within the RPI Top 30, including No. 25 Florida. The Bulldogs have even struggled against teams ranked within the RPI Top 100 with a narrow victory against No. 99 Dayton and No. 102 Ole Miss.
Keys to Victory
For Kentucky, the key is simple: guard the perimeter and hold on to the basketball. The Wildcats have players who can score the basketball, but their turnovers and lack of perimeter defense are hindering them.
For Mississippi State, the key is even simpler: get Quinndary Weatherspoon the basketball and let him take over. The Bulldogs are 13-2 this season when Weatherspoon scores 20 or more points in a game. His scoring ability from the perimeter can open up opportunities for his teammates.
This game between two teams looking to stop their respective skids can be seen on ESPN at 9 p.m.