Dan Mullen, newly appointed head coach of the Florida Gators football team, begins his journey with the annual Orange and Blue Scrimmage on Saturday, April 14, at 3 p.m.
Mullen stretched himself in an effort to excite the Gator Nation. He has created a multitude of hype surrounding this game. However, no matter how full the stands are, the readiness of the football team will indicate the amount of excitement for the 2018 Fall season.
Defensive Line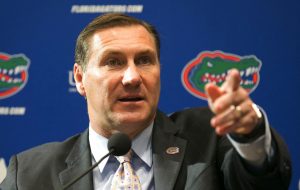 The Florida Gator Football team harps on the Defensive Line. One of the main lessons to be learned is gap control and up-front integrity. The defensive coaches prioritize a defense that maintains strength all four quarters. This defensive depth creates the strong D-Line that Florida needs.
Coach Mullen wants the defense to learn technique, scheme, and strain.
"You've got to be in a B gap, and we're putting over 600 pounds doubling you, right, and you've got two choices. You can just pop a vein in your neck straining so hard to not get moved out of that B gap, or you can kind of get knocked out of it," Mullen said.
Above all, Mullen believes the greatest indicator of a good fall season is the progress in summer. One of the biggest struggles is recollection. The crucial aspect of success is not "dropping-off" in the summer.
TJ Slaton:
Defensive Tackle, TJ Slaton is one of those "big guys" that could physically dominate at the high school level. Coach Mullen has yet to be completely impressed by his efforts. Slaton is one of those "50/50 players." According to Coach, "he's very very talented potentially."
Dan Mullen sees potential in Slaton. However, Mullen believes young players struggle with figuring out how to change their mentality. Players are transitioning from dominating in a high school setting to competing for playing time. All of the players at this level dominated in high school. At this point, it comes down to the amount of effort put into improving.