After success at home in Game 3 of the Stanley Cup Finals, the Washington Capitals will look to extend their lead in the series to 3-1.
2 DOWN, 2 TO GO. ✌️#CapsKnights Game 3 FINAL SCORE powered by @AlarmDotCom :#Caps 3 – Golden Knights 1 #ALLCAPS pic.twitter.com/gdZM4UZmAG

— Washington Capitals (@Capitals) June 3, 2018
Game 3 Recap
After the Vegas Golden Knights and Washington shared a win apiece in the first two, the Capitals headed home for the first time in the series. It's the first time an NHL Stanley Cup Final has been played in the Capital One Arena since 1998, then named the MCI Center, according to NBC Sports.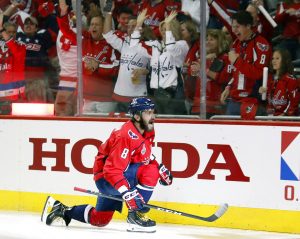 The Capital players to grab the headlines were Alex Ovechkin and Evgeny Kuznetsov. Ovechkin opened the scoring for the Capitals in the second period, scoring his first home Stanley Cup goal of his illustrious 13-year career, according to NBC Sports.
Kuznetsov extended the Capitals' lead to 2-0 with his 27th point of the playoffs.
Kuznetsov on his goal:
Devante Smith-Pelly scored the third as the Capitals sealed a 3-1 victory over the Golden Knights to take a 2-1 lead in the series.
Game 4
The Capitals and Golden Knights will return to Capital One Arena for Game 4 of the series on Monday. Washington has a chance to potentially put the series out of reach for the Golden Knights with a win.
#Caps head coach Barry Trotz talks to the media prior to tonight's Game 4 of the #StanleyCup Final. #ALLCAPS pic.twitter.com/RMaLlOW0cL

— Washington Capitals (@Capitals) June 4, 2018
Keys for Vegas
Something that the Golden Knights have on their side is freshness. They've played 18 total playoff games compared to the Capitals' 22 total games. However, the Capitals have the momentum.
If the Golden Knights want to even up the series on their opponent's ice, they need to rekindle their free-scoring form from Game 1 of the series. The Golden Knights were able to put up six against Braden Holtby.
In a high-scoring affair for both teams, Vegas came out on top 6-4. The Golden Knights need their forwards to replicate this kind of output for Game 4.
Game Details
Game 4 will begin at 8 p.m. on Monday. ESPN 98.1 FM – 850 AM WRUF will have live coverage of Game 4 between Washington and Vegas.