Since the All-Star break, the Boston Red Sox have pulled away as the best and hottest team in baseball.
Boston became the first team to 80 wins Tuesday night, coming from behind to win 10-7 in 10 innings in Toronto.
https://twitter.com/MLB/status/1027028972301963264
"It's really good," Boston first baseman Mitch Moreland, who hit the go-ahead three-run home run in the 10th, said. "…We're just a complete team. There's not a whole lot of weak spots, and everybody steps up and brings it every night."
The win marks their fifth straight, following a four-game sweep of their eternal rival Yankees at Fenway Park. Despite the Yankees having the third best record in baseball, they sit 9.0 games back of the Red Sox in the AL East.
Just how impressive has Boston been? Here's a quick snapshot via @SoxNotes:
The Red Sox are 80-34 (.702), their most wins ever through 114 games.

This is the first time since 2007 the Red Sox are MLB's first team to reach 80 wins.

Since going 13-13 from April 21-May 18, the Sox are 50-19 (.725).

Boston is 24-5 (.828) in its last 29 games.

— Red Sox Notes (@SoxNotes) August 8, 2018
On a Tear
The key to Boston's success has been their elite performances both at the plate and at the mound.
Martinez and the Killer B's
The Red Sox lineup features two MVP candidates in Mookie Betts and J.D. Martinez.
Betts: .341, 26 HR, 58 RBI; Leads MLB in batting average, 8th in AL in home runs, third in AL in Wins Above Replacement (WAR) – 7.1
Martinez: .328, 34 HR, 97 RBI; Leads the majors in home runs and RBI, third in MLB in batting average.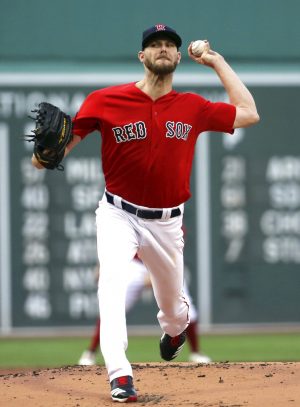 In essence, the offseason addition of J.D. Martinez has given the Red Sox a power bat they haven't had since David Ortiz and puts not one, put two of the best hitters in baseball in the same lineup.
That's without mentioning others who've been raking as well, like Moreland, Andrew Benintendi (.302 batting average) and Xander Bogaerts (16 home runs).
Stellar Pitching
On the mound, new manager Alex Cora's pitching rotation has been equally filthy.
To highlight it in one stat: each of the top four pitchers in Boston's rotation has 11 wins, including a Cy Young candidate in Chris Sale.
Chris Sale: 11-4, 2.04 ERA, 207 strikeouts; Leads MLB in ERA, leads AL in strikeouts
Rick Porcello: 14-4, 3.84 ERA; Tied for AL lead in wins
David Price: 11-6, 3.93 ERA
Eduardo Rodriguez: 11-3, 3.44 ERA
The only gap in the rotation appeared to be the back end, but the emergence of options like Hector Velasquez and even former Florida pitcher Brian Johnson, and the acquisition of Nathan Eovaldi from Tampa Bay have shored that up.
Velasquez has a perfect 7-0 record with an impressive 2.57 ERA. Meanwhile, in his two starts for Boston, Eovaldi has no earned runs through 15 innings of work, including an 8.0 inning, three hit gem against the Yankees on Saturday.
The dominance both defensively and offensively has given the Red Sox the best scoring offense in the league (610 runs scored), the best scoring defense (416 runs against), and the best run differential (+194).
The worry for Boston is that they don't peak too early. Boston won 93 games each of the past two years only to get swept in the ALDS by Cleveland in 2016 and lose in four games to Houston in the ALDS in 2017.
This Red Sox team hopes 2018 goes more of their way though. With a bolstered lineup and rotation, they know a World Series is the expectation in Beantown.
But they know they can't look ahead to that just yet.
"The moment you do that, the game humbles you," Martinez said. "We have to continue to work hard, continue to get ready for tomorrow, and you know, we have to get to the next challenge."