After months of waiting, college football is finally back this weekend. Defending national champions, the Alabama Crimson Tide, begin their road to defending their title on Saturday. They prepare to make their 2018 season debut this weekend as they face the Louisville Cardinals in Orlando, Florida.
Preseason Favorites
For the third season in a row, Alabama is the favorite to win the college football national championship come January. In Vegas, they are the overwhelming favorites, with 11/4 odds at lifting the trophy for the third time in four years.
https://twitter.com/AlabamaFTBL/status/1031585666981879808
They are followed by:
Clemson at 6/1
Georgia at 15/2
Michigan at 9/1
Penn State at 11/1
However, regardless of their ranking head coach Nick Saban is not taking their matchup lightly. Saban has praised Louisville and their football program.
Also, Saban knows that the team is excited to begin the season. He believes the challenge for the Crimson Tide will be the transition of new young players, particularly in the defense. While the team is the overwhelming favorite to the title already, he still believes it's a work in progress.
Quarterback Battle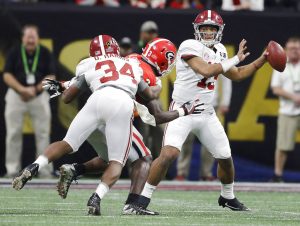 It's been all the talk of the offseason for Nick Saban – who will start at quarterback for the Crimson Tide? Will it be junior Jalen Hurts who led the Tide to back to back national championships? Or should it be sophomore Tua Tagovailoa who led the comeback in the 2018 National Championship?
Nick Saban has two great quarterbacks at his disposal. Saban has not yet named a starter, and it will be interesting to see how Hurts and Tagovailoa share game time against Louisville. While their defense has a lot of new faces, Saban is confident in his offense this season under the leadership of either quarterback.
Another interesting storyline of this match will be how Louisville quarterback Jawon "Puma" Pass will perform against Alabama. The Crimson Tide are heavy favorites, but it is well known that Saban wanted Pass, who turned down Alabama for the Cardinals. Having played backup to Lamar Jackson for the past two years, Pass will be looking to prove his level development and success.
Linebacker Depth
In 2017, the linebackers for Alabama were somewhat of a liability because they were hit with so many injuries. This season, starting on Saturday, the linebacker group has the potential to be one of the best in college football.
Nick Saban has confidence in his linebacker group. On the inside, he'll have experienced players in junior Mack Wilson and sophomore Dylan Moses. On the outside, redshirt Christian Miller and redshirt junior Anfernee Jennings are projected to start.
While the group has a lot of new faces and young talent, Saban knows that it will take time for them to gain experience and playing time. But he is confident in his team's depth this season, and it will begin with their matchup versus Louisville on Saturday.
When and Where
Season openers are no joke for either Alabama or Louisville. Alabama is a perfect 11-0 in season openers under Nick Saban, and Louisville has won six of their last seven season openers.
The Alabama Crimson Tide and the Louisville Cardinals are set to square off on Saturday, Sept. 1, at Camping World Stadium in Orlando, Florida. You can catch the game live on ABC at 8 pm.
https://twitter.com/AlabamaFTBL/status/1035239750901411842