Dressed in a navy blue shirt with "Allstate" and their Helping Hands logo printed boldly in white, Tim Tebow stood in front of reporters during his return to Gainesville.
The reason?
Charity work, of course.
The former Gator quarterback and Heisman Trophy winner returned to the place he called home during his college career. With Allstate and Food4Kids, Tebow and other fellow volunteers got to work as they prepared backpacks filled with non-perishable food items for kids that live in "food-unstable homes."
"It's my first time getting back to Gainesville in a little while," Tebow said. "And this was just the right cause. It felt great and I was grateful for the invitation. Hearing about everything they're doing was extremely moving."
Former #Gators QB and Heisman trophy winner Tim Tebow is in Gainesville today. He's volunteering with @Allstate for Food 4 Kids. @WUFTNews @ESPNGainesville pic.twitter.com/qeZy3qVmJZ

— Zach Oliveri (@Zach_Oliveri) September 6, 2018
The Food4Kids Backpack Program of North Central Florida allows kids in need to be fed throughout the weekend. On Monday, the children return these bags and get them back on Friday to continue the cycle. According to Food4Kids, 1 of 4 kids in North Florida live in homes that lack the ability and access to food, especially on the weekends. For Tebow, it was a no-brainer for the former National Champion to come home and help out this local organization. He said that one of their biggest goals this time around is to spread awareness of the cause and
"Understanding what (Food4Kids) do, understanding the need and understanding that there is someone that's meeting the need and then to be able to help support them, I think that's probably the biggest push from an event like today."
Talking Gator Football, Franks' jump pass
Charity wasn't the only topics of conversation buzzing in the air at the event. With the Gators winning their home and season opener under first-year coach Dan Mullen, lots of questions came Tebow's way about the offense and what he expects from Florida this season.
"I think Florida is much improved. I think they're getting better," Tebow said. "It's so evident when you watch a few of these new coaches in these new places – Mullen here, Jimbo (Fisher) at (Texas) A&M – not in the score but in their play."
In addition to talk about the play, a handful of reporters brought up Feleipe Franks jump pass in the opener against Charleston Southern. On the play, Franks stood in the pocket and lifted himself into the air over the offensive and defensive line to drop a pass into the hands of Tyrie Cleveland, similar to Tebow's famous play against LSU during their run to the 2006 National Championship.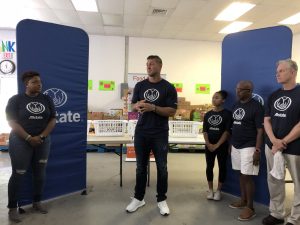 He said the play was "really-well designed" and thought Franks executed the play well.
"I think he jumped off one foot, I jumped off two so there's a little difference," Tebow said. "It was awesome."
With Tebow off to South Carolina to prepare for SEC Nation's coverage of the Georgia-South Carolina contest, Floruda will focus on a game of its own with SEC foe Kentucky coming to town.
The Gators will try to fend off the Wildcats as UF goes into Saturday with a 31-game winning streak against UK on the line.