The Texas A&M Aggies have a tough challenge ahead of them this Saturday against the No. 2 Clemson Tigers, but head coach Jimbo Fisher believes his team is up for it.
All About Mindset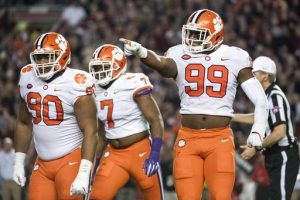 The Clemson Tigers have one of the most premiere defensive lines in the nation that is sure to give the Aggies a lot to handle. The line features four All-Americans — Dexter Lawrence, Austin Bryant, Clelin Ferrell, and Christian Wilkins. All four of which have the potential to be first-round NFL Draft picks, according to Fisher.
Out of the Tigers' FBS-leading 46 sacks last season, the group had a combined total of 25 of them.
The talent that makes up this line is intimidating for a lot of teams, but Fisher doesn't want to focus on their opponent. Instead, he wants his team to only compete with themselves. He says this mindset and hard work will lead to success on the field.
Fisher wants to emphasize the importance of worrying about the small and less glamorous things, like putting in effort on the practice field. He feels when his team does this, playing well and success just come naturally.
Familiar Faces
Clemson Head Coach Dabo Swinney doesn't know too much about Texas A&M's football team, but he has squared off against their new head coach on more than a few occasions. With Fisher having been at FSU, Saturday's contest will be the ninth between the two coaches, who previously battled it out in the ACC.
The pair have been friends for a while and each has a mutual respect for the job the other does when it comes to coaching. Fisher feels Swinney has built a great football program at Clemson with strengths in every part of the game and knows his Aggies have a tough road ahead of them come Saturday.
The Aggies will be welcoming the Tigers to Kyle Field Saturday at 7 pm. Both teams are heading into the matchup 1-0. The game will be broadcast on ESPN.