Oklahoma will finish their regular season 11-1 and first in the Big 12 conference. Their only loss? To the University of Texas who they will face in the Big 12 Championship on Saturday, Dec. 1.
The last time these two teams met twice in one season was in 1903.
Staying in the Playoff Race
When Oklahoma and Texas first met this season on Oct. 6, the Longhorns beat the Sooners 48-45. The Longhorns pulled out a last-second field goal after blowing a 21-point fourth-quarter lead.
With the Sooners trying to stay in the race for the playoffs, a second loss to Longhorns would eliminate them.
OU Quarterback Kyle Murray says this game isn't about revenge but winning another championship.
"We're trying to go out and win a championship. That's what we do at Oklahoma."@Kmurrayy_9 is focused on #ChampionshipDecember pic.twitter.com/YB1BEew7DR

— Oklahoma Football (@OU_Football) November 26, 2018
If the Sooners Win the Big 12
If the Sooners can avenge their only loss this season, they will have a clear pathway to the College Football Playoffs, and win the debate over Ohio State getting the last spot in the CFP.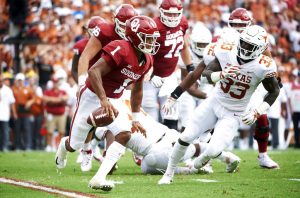 With the rivalry and talent of these two teams, Saturday's game will be more than a treat for college football fans.
Head coach Lincoln Riley says their plan is to win, and the Sooners will be in good shape.
https://twitter.com/OU_Football/status/1067137763022008320
Kick off for the Big 12 Championship game is set for 12 p.m Saturday Dec. 1.