Tampa Bay Buccaneers quarterback Jameis Winston has had…a rocky year to say the least. After starting the year on the bench behind veteran Ryan Fitzpatrick because of a three-game suspension, Winston remained firmly on the pine. "Fitzmagic," as some came to know him, started the season on fire.
But, about as expected, the veteran eventually cooled off. Winston came back in Week 4 during the Chicago Bears' drubbing of the Bucs. The FSU product played well enough to earn the starting job back. But, as Winston is prone to doing, he gave it away again.
In Week 8, he threw four interceptions and found himself back on the bench. Until that is, Fitzpatrick played his way off the field in Week 11 with zero touchdowns and three interceptions.
Since that point though, Winston has firmly grabbed control of the starting spot.
Hot Streak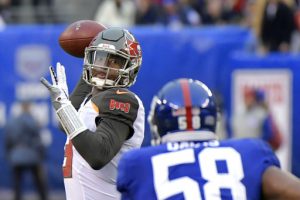 Winston found himself in hot water this offseason. The NFL suspended him three games because of some idiotic behavior inside of an Uber.
Say what you will about him though, you can't deny he has significantly improved his play the past few contests. He entered Week 11 and nearly led Tampa Bay to an improbable win over the New York Giants.
He went 12-for-16 with 199 yards, two touchdowns and one interception. His passer rating was the highest it's been all year at 129.9.
The following game against the San Francisco 49ers, Winston had arguably his best performance. He went 29-for-38 for 312 yards, two touchdowns and zero interceptions in a 27-9 beatdown of the 49ers.
Winston followed it up with an encore against the Carolina Panthers. In a 24-17 victory, he threw 20-for-30 with 249 yards, two touchdowns and zero interceptions.
The Bucs have some tough opposition the next few games though. In Week 14, they host the New Orleans Saints. Drew Brees is having an MVP-worthy season, and Winston could fade into the background if Brees plays well.
Tampa Bay then travels to Baltimore for a matchup with the relentless Ravens defense and then to Dallas for a streaking Cowboys team.
If he fails to play well in those contests, Winston can essentially kiss all the momentum he's built goodbye.