The Tampa Bay Buccaneers are looking at a tough stretch to wrap up the season and keep their slim playoff hopes alive.
This Sunday, the Bucs will go head-to-head against the NFC South leaders New Orleans Saints. The Bucs came out with a surprising win against the Saints in week one of the season. It was a shootout between Ryan Fitzpatrick and Drew Brees in which Fitzpatrick was victorious.
Fitzpatrick's early season success was one of the most talked about stories at the beginning of the season. The Bucs have their hands full this weekend against the New Orleans. The Saints have the second best record in the NFL at 10-2.
A lot has changed since September
After winning their first two games of the season, the Bucs have struggled and have gone 3-7 in their following 10 games. One of the reasons for the Bucs rocky season up to this point is their quarterback situation between Jameis Winston and Fitzpatrick.
Winston missed the first three games due to a suspension which led to Fitzpatrick manning the offense. Since Winston has returned from suspension, the quarterback duties have been going back and forth.
Recently, Winston has started the last two games winning both against the 49ers and the Carolina Panthers. He threw a combined four touchdowns without any interceptions.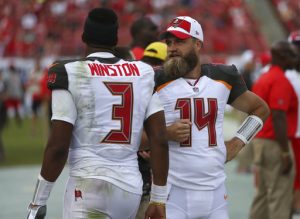 Something to Play For
The Buccanneers are still not eliminated from playoff contention.
They will have to win out and rely on other teams to lose. They can still play as spoilers and hold the Saints back from reaching the best record and top seed in the NFC.
The Saints are coming off a loss to the Dallas Cowboys that ended their 10 game winning streak and the Bucs look to have a three-game winning streak since the 2016 season.
Kickoff is set for 1 p.m. this Sunday at Raymond James Stadium.