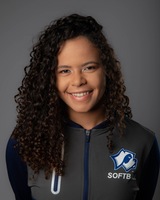 Imagine moving to a new country and not knowing anyone or how to speak the language.
That is exactly what Karina Ortiz-Munoz did. Ortiz-Munoz is a freshman on the Santa Fe softball team and moved to the United States this past year to fulfill her dreams of studying and playing softball in the United States.
Transition
The outfielder is from San Lorenzo, Puerto Rico and said that the transition was difficult due to a language barrier. "It has been a little bit difficult because when I first came in I didn't know almost anything in English," Ortiz-Munoz said.
Ortiz-Munoz credits reading and asking questions to her being able to learn English.
"It was hard to communicate and understand teachers, but I just kept reading. Reading really helped me a lot to understand English," Ortiz- Munoz said.
Just do it
Soon after, her goals later turned into reality."I always dreamed of studying in the United States and playing softball here. It was something that I always looked forward to and it was my goal," Ortiz-Munoz said.
"I just decided to do it."
Ortiz-Munoz said she worked hard to be able to play in America because she thought she would have a better future here. " I thought I would have a better future here, so I kept training and working out, and I got a scholarship."
One of Ortiz-Munoz's coaches in Puerto Rico helped her to get a scholarship, allowing her to come to Santa Fe to play. She also credits this coach for helping her adapt to the new experience of moving.
Ortiz-Munoz came to the US by herself, leaving family and friends behind to chase her dream.
"I came to the United States alone. I don't have any family here. I just went for it because it was my dream. I just really wanted to play softball here and I just did it," Ortiz-Munoz said.
Overall
Saints softball head coach Lindsay Fico has high praise for Ortiz-Munoz. "She is flourishing in the classroom and on the field. I think she is a great success story," Fico said.
The freshman has played in all 32 games this season, hitting one home run and having 15 RBI.
"I really enjoy the level of competition here, I love how they work hard every single day, and how we have to balance between school and softball."