It's opening day in Major League Baseball and another former Gator will his mark in the pros as Jonathan India joins the Cincinnati Reds opening day roster.
India played for the Gators from 2016 to 2018. He was an SEC First Team All-Freshman in 2016 and helped the Gators to their College World Series Victory in 2017. He then won the SEC Player of the Year Award, hitting 21 home runs before being signed by the Reds in 2018.
https://twitter.com/Reds/status/1377319045771431946?s=20
As the Reds No. 5 ranked prospect, India spent time at the alternate site last year. He moved into the vacant second base position during spring training and hit .313/.441/.604 with three homers, two steals and seven walks in 59 appearances this March.
"It's a crazy feeling," said India of making the team. "It's something I've dreamed about since I was 4-years-old playing this game. To be in this position right now still hasn't hit me. It won't really hit me until tomorrow when we're under the lights and playing."
India is the first Reds second baseman to make his Majors debut on Opening Day since Pete Rose in 1963. He will wear the number 6, the number he has worn throughout his career including his time with the Gators. He is the youngest player on the Reds' active roster at age 24.
Former Gators in MLB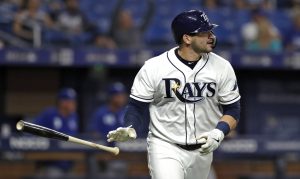 India joins a host of other former Gators on active rosters at the start of the 2021 season.
C Mike Zunino (Tampa Bay Rays): Zunino was drafted by the Seattle Mariners in 2012 and is now entering his third year with the Tampa Bay Rays. Last season, Zunino recorded 11 hits, four home runs and 10 RBI in 28 games and was a part of the Rays' playoff run and World Series appearance.
CF Harrison Bader (St. Louis Cardinals): Bader made his majors debut in 2017 after being drafted by the Cardinals in 2015. He recorded 21 hits with four home runs and 11 RBI in 50 games in 2020. He will rejoin the lineup in four-to-six weeks after recovering from an arm injury suffered in preseason.
P Brady Singer (Kansas City Royals): Singer joined the Royals in 2018 and made his major league debut in 2020. In his first season in the majors, he was 4-5 with a 4.06 ERA and averaging 8.5 strikeouts per nine innings.
1B Pete Alonso (New York Mets): Alonso made his MLB debut in 2019, breaking the record of most home runs by a rookie. In the shortened 2020 season, he recorded 48 hits in 57 games with 16 home runs and 35 RBI.
P Darren O'Day (New York Yankees): O'Day signed with the Los Angeles Angels as a free agent in 2008. He has since played for the Mets, Rangers, Orioles, and Braves before signing with the Yankees in 2021. In his last season with the Braves, Dunning was 4-0 with a 1.10 ERA and 22 strikeouts over 16.1 innings.
P A.J. Puk (Oakland Athletics): Puk made his major league debut late in 2019 after being drafted by Oakland in 2016. He finished the season 2-0 record with a 3.18 ERA and 13 strikeouts in 10 appearances. Puk didn't play in 2020 due to shoulder issues, but will be on the opening-day roster for 2021.
P Anthony DeSclafani (San Francisco Giants): DeSclafani made his majors debut in 2014 for the Miami Marlins. He played for the Cincinnati Reds until signing a 1-year contract with the Giants in 2020.
P Dane Dunning (Texas Rangers): Dunning made his majors debut in 2020 for the Chicago White Sox. He finished the season with 2-0 record, 3.97 ERA and 35 strikeouts in 34 innings. He was then traded to the Rangers in December of 2020.
Good luck to our 9️⃣ former players on #OpeningDay rosters! #GatorMade x #GoGators pic.twitter.com/EPfLsK6oW4

— Florida Gators Baseball (@GatorsBB) April 1, 2021