The Columbia Tigers annihilated the Valwood Valiants in their matchup on Monday night. Columbia baseball took home a 14-1 win with an explosive outing on offense and a strong showing on defense. Senior Chandler "Brent" Howard and junior Hayden Gustavson each racked up three hits and multiple RBIs; Gustavson also hit his first home run of the season. Senior Ty Floyd also put forth an impressive performance on the mound and at the plate. He gave up no runs in four innings of pitching while chipping in with multiple hits of his own on the offensive end.
Early Offensive Fireworks for Columbia
Coming into the game riding a six-game winning streak, the Tigers got off to a quick start. Howard and Matthew Dumas hit back-to-back singles, setting up Gustavson for a nice at-bat. With the count at 2-0, Gustavson saw a pitch he liked and ended up blasting it out of the stadium. Gustavson's home run sparked the Tigers' offense, as the team scored 6 runs in the first inning alone to jump out to an early lead.
The Tigers are off to a strong start, with a 3-run homer from Hayden Gustavson giving Columbia an early 3-0 lead at the bottom of the first inning. pic.twitter.com/tulUrb3yVA

— Jack Meyer (@jacklmeyer10) March 14, 2022
"As I was coming to the plate, I knew I had two runners on base, so initially, I was trying to… get them over into scoring position so we could get an early lead," Gustavson said. "I knew I hit it good, the wind was blowing, I wasn't sure it was getting out, but I knew I hit it good enough to get a double, and it carried, thankfully."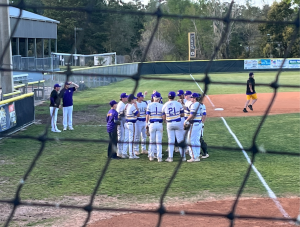 The Tigers went on to extend their lead with another 6 runs in the third inning. Howard and Gustavson each drove in two runs off back-to-back doubles. Howard believes that moments like these show how the team is becoming a more cohesive unit.
"We came in trying to open it up [early], we've been letting some teams hang around early on," Howard said. "But we're coming together as a team, [tonight] shows that we're bonding."
Staying In Control Until The End
While the Tigers offense put them in the driver's seat for the game, their defense kept them there. Columbia only allowed one run in the entire game, which came in the fifth (and final) inning. Floyd's performance on the mound helped Columbia contain the Valiants' offense and hold on to the lead.
"Ty Floyd got his second start of the year," Columbia Head Coach Chris Howard said. "He started the [North Florida Christian] game for us, did a great job, so we gave him the start tonight and he did a great job again."
In Floyd's start against North Florida Christian, he gave up four hits and two runs in four innings. The team walked away with a 3-2 victory, thus increasing the staff's confidence in Floyd's pitching ability. With a shutout performance and only one hit given up tonight, that confidence will likely continue to grow.
On Deck for the Tigers
Monday's game served as the first leg of a back-to-back for the Tigers. They will play host to the Middleburg Broncos on Tuesday at 7 PM (assuming it does not rain, as forecasts may be suggesting). Regardless of who and when they play next, the Tigers are ready to keep their momentum and keep on rolling as the season continues.
"Hopefully we can keep rolling," Gustavson said. "If we keep playing our game, we should be fine."
Ballgame! The Tigers finish off the Valiants in five innings, walking away with a 14-1 victory. pic.twitter.com/Imcu3jMGo6

— Jack Meyer (@jacklmeyer10) March 15, 2022