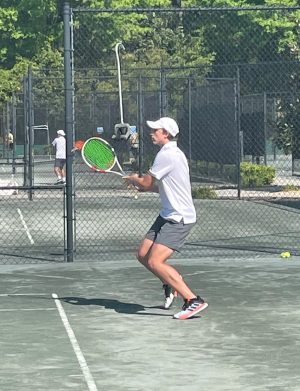 On Tuesday, March 29, Gainesville High School beat Eastside High School 4-2 in a boys' tennis exhibition. The Hurricanes won three of the five singles matches and the sole doubles match. The event was held at the Jonesville Tennis Center.
Duffaut Starts Strong
Junior Ben Duffaut started off the day for the Hurricanes. Duffaut overpowered his opponent by blasting balls past his Eastside rival for most of the match. Duffaut's dominating serve gave him the upper hand, as he smashed several aces throughout. Also, Duffaut spread his shots across the court, constantly forcing his opponent to sprint all over the green clay. Duffaut's pace and power lead him to win the match 8-4.
Ben Duffaut scoring a hard-earned point against his Eastside opponent.
Eastside Pulls Ahead
Duffaut put Gainesville in a solid spot after his strong performance. But, the Hurricanes took a slip after Patrick Dong and Diego Betancourt each lost their singles matches. Dong was defeated 7-9 and Betancourt was defeated 8-1. With Eastside now up 2-1 in games, Gainesville needed to get things rolling.
Gainesville Rallies Back
Senior Nick Golowich took the court next for Gainesville. Golowich used his finesse serves and accuracy to route his opponent 8-2. With the teams tied at two victories apiece, Antonio Baez kept things rolling for his team. Baez delivered an impressive 8-4 victory in his match, putting the Hurricanes back in front 3-2.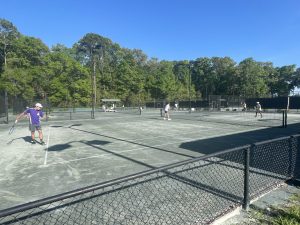 After Gainesville's success in the singles matches, Nick Golowich and Collin Wycoff began their doubles match. The match was back and forth throughout. Golowich was able to catch his opponents off guard with his softer serves, while Wycoff ripped sharp volleys through the Eastside defense. Golowich and Wycoff came out on top with a 9-8 victory, cementing the Hurricanes' 4-2 win for the exhibition.
Head Coach Dave Porter commended his team's efforts on the court as he prepares them for the postseason.
"We need to iron out a few kinks before our district tournament, but overall I'm happy with our progress," Coach Porter said.
The Hurricanes had another match on Thursday against Buchholz.