Story by: Joseph Baker, Madison Broach and Lauren Herinckx
The Eastside Rams dominated the Keystone Heights Indians 26-0 on Thursday during their first home game of the season at Citizens Field. The Rams' defense pitched a shutout and the offense had their way, tallying a total of four touchdowns. It was a surprisingly clean game for the Rams considering how early it is in the season, as they did not turn the ball over one time. The Rams have had a great start to their season, as they improve to 2-0. This matches their win total from 2021-22 when they went 2-8.
https://twitter.com/EHSRamsFootball/status/1565518047196192771
Standouts offensively included quarterback Holden Johnson and wide receiver/cornerback Antoneo Wilson. Johnson was lights out when throwing to the end zone, completing four passes for touchdowns.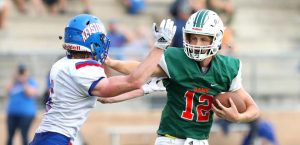 The entire defense was locked in, as they blanked the Indians' offense. Their next time out will be Friday when they host in-town rival Buchholz (2-0). It is sure to be a great match-up and the atmosphere will be electric for the rivals. 
Keystone Heights were on their heels all night, as it was clear Eastside had the athletic and tactical edge. The Indians fall to 0-1 after going 10-2 last season. The season is still young, though, and they will have an opportunity to right the ship next week against Fort White (0-1).