The 8-9 Tampa Bay Buccaneers will face off against the 12-5 Dallas Cowboys on Monday night in a wildcard matchup. The NFC South champions will host Dallas as the Bucs begin their road back to the Super Bowl for the second time in three years.
The Bucs faced off against the Cowboys in Week 1 this season in which Tampa Bay won 19-3. Dallas quarterback, Dak Prescott, broke his right thumb in the fourth quarter of this game where they could not get their offense going.
https://twitter.com/Buccaneers/status/1612887001925095428
Tampa Bay Buccaneers
Quarterback Tom Brady and his crew were able to win their division for a second year in a row.
The Bucs had a very up and down regular season. Their longest winning streak of the year was just two, and the most they lost in a row was three.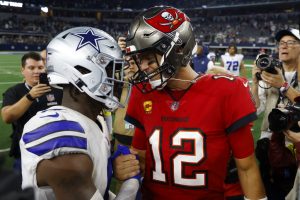 Brady, in his age 45 season, has been his usual self. He threw for over 4,500 yards in the regular season, which was third most in the league. He added on 25 touchdowns and threw just nine interceptions in 17 games.
Brady has never lost to the Cowboys in his career. He is currently 7-0 against Dallas, and 2-0 since joining the Buccaneers. Brady threw for 212 yards, with one touchdown and one interception in their first matchup this season.
He has had some very explosive offensive weapons at his disposal. Wide receivers Chris Godwin and Mike Evans both had over 1,000 yards receiving this season.
Tampa Bay comes into this first round matchup off a loss in Week 18 to the Atlanta Falcons. The Bucs rested most of their starters after the first quarter in this game.
Dallas Cowboys
The Cowboys finished second behind the Philadelphia Eagles in the NFC East this season with a 12-5 record.
Prescott has had an issue with turnovers this year. He had the most interceptions in the league with 15 while missing five games due to the broken thumb.
Dallas comes into this wildcard matchup off a very poor performance in Week 18. They lost 26-6 in Washington to the Commanders in a game where the Cowboys' offense was flat. This loss might be just what Dallas needed before the playoffs, however. They have not lost two games in a row this season and they look to continue that trend on Monday.
Countdown to Kickoff
The Buccaneers and Cowboys will face off on Monday night at 8:15 at Raymond James Stadium.