By: Molly Cooper and Taylor Fishman
The clock starts to run down in the Georgia Dome as the Florida Gator men's basketball team tries to hold off the Kentucky Wildcats from taking the lead. Kentucky's James Young loses his footing on the way to the basket. The ball goes loose. Diving for the ball, Gators and Cats scramble to gain the last possession of the game. Time runs out. Running across the court, Will Yeguete and the rest of the "Core Four" meet in the middle to celebrate beating the Wildcats 61-60 and becoming the 2014 SEC Champions. The game will go down in Gator history and become one of Yeguete's favorite memories.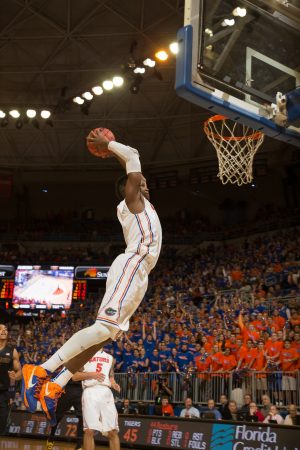 "Will was part of a really special time with our men's basketball program, winning three SEC championships during his career and earning a trip to the Final Four his senior year," UF Assistant Athletics Director Denver Parler said. "He was a part of something really special here, and he means a lot to the Florida family."
Since he graduated from UF, Yeguete moved to France, where he now plays with French team Limoges CSP. Last week, Florida basketball and France were in the news because of the NBA game between the Chicago Bulls and the Detroit Pistons–the first regular–season game in Paris since before the pandemic. Former coach Billy Donovan (now coach of the Bulls) and former player Joakim Noah were both there, but they were not the only Gators in France.
Professional Career in France
Once back in France, where he had spent part of his childhood STB Le Havre signed him in the summer of 2014. Yeguete played in Normandy city for one season before moving to Pau-Orthez. He played one season there too, then signed a three-year contract with Le Mans Sarthe Basket where he won the 2018 French League. In June 2021, Yeguete suffered a career-halting knee injury. But last summer, Limoges CSP offered him another chance at his dream by signing a two-season contract.
In his first season with Limoges, Yeguete so far has played in 18 games averaging 5.6 points per game with a 2-point field goal percentage of 55.4%.
"After my year off without basketball, playing for this team at this level is a blessing and I'm thankful that Limoges gave me that opportunity," Yeguete said.
Yeguete's Career as a Gator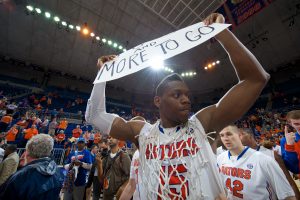 Throughout his tenure as a forward for the Gators, Yeguete played in 127 games, tallying up 189 field goals and totaled up 626 rebounds. During his senior year, Yeguete, Patric Young, Scottie Wilbekin and Casey Prather were tokened as the "core four" that led Gators to success. They appeared in four NCAA tournaments under Donovan. The Gators reached the Final Four once in 2014 and the Elite Eight three times. In 2014, Florida went 18-0 in the regular season for all SEC matchups and was crowned SEC tournament and SEC regular season champions.
"Coach Donovan was more than a coach," Yeguete said. "The reason why I committed to him and to Florida was that I knew I would grow as a player under him. I did, but I also grew and matured as a man. He was a great leader, a man of faith, a great human being and a winner. He challenged us in a way we were never challenged before. I have learned a lot during my four years at UF, and Coach D had a lot to do with that both on and off the court."
Looking back at the end of his four years, Yeguete learned how to be a better basketball player and play not for himself, but for his team.
"My experience at UF made me understand that a team with great chemistry, with players who love each other and want to play for one another, can achieve great things," Yeguete said.
Picking up Basketball
Yeguete first picked up a basketball while growing up in Abidjan, Côte d'Ivoire in West Africa, after attending his father's basketball games on the weekends. However, his love for the sport did not develop until later on.
"It was only when I moved to France when I was 10 that I really started to dedicate myself to basketball," Yeguete said.
While living in France, Yeguete gained an interest in American basketball and kept up to date with the sport even with the little access he had. He realized he might want to play in the U.S. to develop his craft with the best of the best.
Moving to the States
In the summer of 2007, Yeguete attended a basketball camp in Washington, D.C., where high school programs showed interest in his talent and wanted to recruit him. At 16, Yeguete took the jump and agreed to play for Florida Air Academy (Florida Prep) in Melbourne.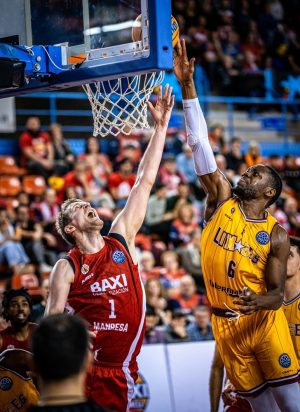 "So the following year, after I was granted a five-year student visa, I told myself that I would try at least a year and if I don't like it I could always come back to France," Yeguete said.
As his high school basketball career progressed, Yeguete's talents caught the eye of college coaches like Billy Donovan, and in 2010 Yeguete enrolled as a student-athlete at the University of Florida.
NBA in Paris
The NBA noticed the French capital's interest in the sport and hosted its first game in Paris since the COVID-19 lockdowns on Jan. 19. The Donovan-led Chicago Bulls beat the Detroit Pistons at Accor Arena, 126-108.
This game allowed French fans to watch a game during a regular time rather than waking up in the middle of the night to watch.
"It allows French kids to dream about the NBA, to be motivated about being there one day, and that feeling of being so close is one of the biggest impacts, in my opinion," Yeguete said.
Over the years, Yeguete noticed cultural differences between basketball in the U.S. vs. France. He found that the sport is more popular in the U.S., but it is starting to pick up traction in France. Yeguete believes this spike in popularity is thanks to the national team's performance in the European and World Tournaments as well as the past two Olympics. At the EuroBacket Tournament in 2022, the French National team fell to Spain in the finals to put them in second place.
The NBA game grew the league's fan base outside of America and shows the world that the sport is not just popular in the states.
"It allows not only the NBA but also the players, to realize that there is a great basketball community here in Paris and in France," Yeguete said, "and that basketball is also a major sport in this country."
Don't miss the @chicagobulls vs. @DetroitPistons live from Accor Arena in Paris today at 3pm/et on NBA TV! #NBAParishttps://t.co/gAgnftXtlc pic.twitter.com/XYauTYqTuX

— NBA (@NBA) January 19, 2023