The Gators men's basketball team is set to take on the Georgia Bulldogs in Athens tonight. Florida currently sits one spot ahead of the Bulldogs in the SEC standings, despite having a worse record overall.
Gameday in rival territory

@ UGA
@ 7 PM #GoGators pic.twitter.com/seuUCCjS18

— Florida Gators Men's Basketball (@GatorsMBK) February 28, 2023
Post-Castleton Struggles
Florida lost their star when Colin Castleton broke his hand in the win over Ole Miss earlier this month. Castleton was having a stellar season for the Orange & Blue, averaging 16 points, 7.7 rebounds, 3 blocks, and 2.7 assists per game.
Florida hasn't won a game since. They've dropped three in a row to Arkansas, Kentucky and Vanderbilt, respectively. The Gators' defense has struggled mightily without him manning the middle, allowing 84.6 points per game.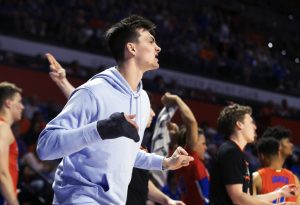 Riding the Hot Hand
While Florida has struggled on defense without Castleton, their offensive output has been able to tread water.
The Gators have been led by freshman standout Riley Kugel, who is averaging 20.3 points over his last three games. The 6'5 guard has averaged 9 points and 2.6 rebounds in 21.4 minutes per game this season.
Kugel had been mostly coming off of the bench to start the year, but is a regular starter now. He's started the last 10 games for the Gators.
Since becoming a regular in the first five, Kugel's offensive output has exploded. He's scored in double digits in his last six games.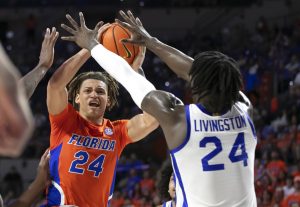 Georgia Outlook
Like Florida, the Bulldogs come into tonight's game on a three-game losing streak. During their current skid, Georgia's allowing over 96 points per game while scoring only 62.3.
Tonight is the Bulldogs' final home game of the season. In Athens, they've gone a stout 13-3.
Georgia's led by former Gators men's basketball head coach Mike White. White and the Bulldogs have faced off with the Gators one other time this season, losing in Gainesville in January.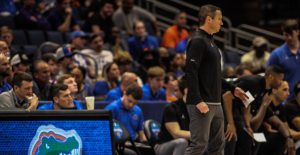 Tournament Implications
Realistically, Florida and Georgia both have a slim-to-no chance of competing in March Madness this year. Neither team has the record to make it without a win in the SEC Tournament. Both the Gators and the Bulldogs should be viewing tonight's matchup as a tune-up before the SEC tournament, which begins March 8.
https://twitter.com/GatorsMBK/status/1630562863067680768
The game will tip off at 7 p.m. in Athens, Georgia. The game will be broadcast on the SEC Network.