By Olivia Velardo and Camden Nolde
Some miscommunication kept the Saint Francis Catholic Academy Wolves from a home volleyball playoff match Tuesday against the Florida School for the Deaf and Blind Dragons.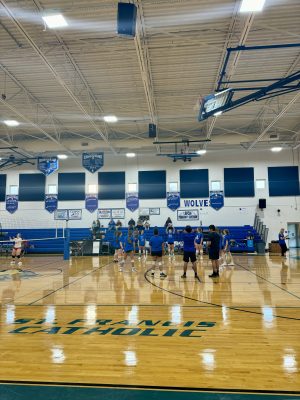 A Delayed Start
The match, originally set for a 6 p.m. start, was delayed because no officials were scheduled. The teams remained with a positive mindset, practicing and planning as a unit for the playoff match ahead. But after a delay, the teams were disheartened when the match had to be canceled. 
"It's a little mixed with the way that it went down," Saint Francis coach Erin Livingston said. "Obviously I am thrilled, but I really wish that we could have played tonight and really shown that we are ready to go for tomorrow and see how far we can take this thing."
The Stressful Atmosphere
The Dragons (1-17-1), making the drive from St. Augustine, were anxious to play; but it was not to be. 
What's Next for the Wolves
At first, Saint Francis (13-5) were informed by tournament officials they would have each of their playoff games pushed back a day, starting with Florida School for the Deaf and Blind on Wednesday. It was then told they were no longer postponing their games and were just moving through to the second round.
The Wolves have moved on to round 2 of playoffs. After having no officials scheduled to officiate the game, the game has been cancelled and Saint Francis is moving on to round 2.

Good luck to the Wolves as they compete tomorrow night at 7:00 pm. @sfcawolves @ESPNGainesville

— Olivia Velardo (@OliviaVelardo) October 17, 2023
Livingston says her team will need to focus on "intent and communication." 
Livingston also says that although high school athletes tend to get caught up in the moment, it's important for her team to stay focused.
"Keep driving into what it is they are here to do," Livingston said. "And stay focused the entire time … If they can do that, we have a solid chance of doing something pretty cool."