To celebrate International Education Week, WRUF is publishing profiles of UF student-athletes all week.
While the Rugby World Cup was taking place in France this past month, Lewis Rogers cheered on his home team of England here in Gainesville, Florida, thousands of miles from home.
Originally from a small town 45 minutes east of London, Rogers began his rugby career at Bishop's Stortford High School. Rugby became a part of his regular routine, often having more than one practice a day before school, during lunch periods, or at the end of the day. 
Once he moved to Florida, roughly nine years ago, he put his dedication for the sport to the side. He took time to experiment with other sports, such as track and field.
"Football did not interest me," Rogers said.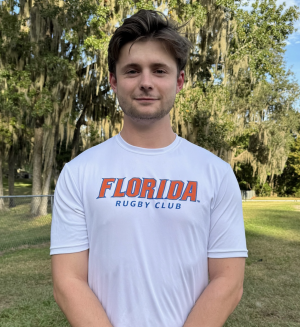 After high school, Rogers attended Florida State College at Jacksonville to receive his Associate in Arts degree. He became a Gator in 2022 and is expected to graduate in Fall 2024. Rogers has had an extended time at the University, for he returned home to England to work for most summer and fall semesters. 
More Than Just a Game
When arriving at the University of Florida, he decided that it was time to return to rugby once again. Rogers is going on to play in his fourth and final season with the Florida Men's Rugby Club. He will not be playing for the club in the fall. 
"We have a lot of new talent that needs playing time next fall," Rogers said. 
Rogers appreciates the bonds he made with his teammates, and how these connections have enhanced his rugby experience here in Gainesville. 
"Because I played at such a young age in England, you played the match and then you went home," Rogers said. "But then you come to UF, you get into the team, go out during the week together, you play the match against whatever team, and then you go for a social. You bond. It is a great experience." 
Rogers added he "definitely" would miss being a member of the club upon graduating. 
"Everyone Helps Each Other Out"
More than just a team, Rogers has found a community amongst his teammates and fellow Gators. 
"We have all types of majors," Rogers said. "We have engineering majors, computer science majors, communications majors, and animal science majors. We have freshmen to seniors, and everyone helps each other out. It is definitely a diverse group." 
Rogers' friendship with sophomore Connor Brady illustrates that. The two men met in the spring of 2022. 
"Rugby brought us together because I wouldn't know him without it," Brady said. "He is three years older than me and is in the animal science department, so literally I would have no way of knowing him if it weren't for rugby."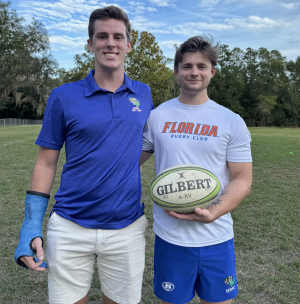 The bonds between these teammates are not bound by Gainesville's city limits; instead, the team has enjoyed many trips out of the state together. 
"I have traveled more with the rugby team than with my family at this point," Rogers said. 
In 2022, the club qualified for the College Rugby Championship (CRC) May Madness 7's tournament, as well as the USA Rugby 7's Collegiate Championship. This past 2023 season, it qualified for the College Premier 7's National Championship. 
"We have been to Kennesaw, Georgia and New Orleans," Rogers said. "Last spring, we also went to Houston and played in competitions with UCLA and Harvard."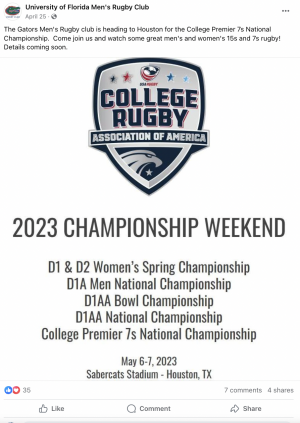 International Gators
Founded by two Australian students in 1969, the UF Rugby Club has since become a truly international team. Rogers is only one of many international Gators that make up the club's roster. He listed teammates from England, Ireland, Australia, New Zealand, South Africa, Argentina, India, Spain, Belgium, and Japan. 
Brady described the team as a "melting pot" of students from all over the world.
"If you are looking to meet internationals, Rugby is probably the best way to do it," Brady said. 
"We banter back and forth, cursing at each other in different dialects," Brady added jokingly.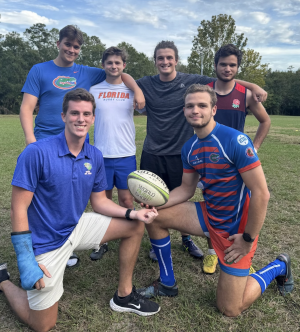 Rugby World Cup 2023
Over the past two months, the UF Rugby team kept a close eye on the 2023 Rugby World Cup. Many of the teammates gathered together to watch and cheer on their respective countries. For some games, they did "a watch party together." Even when they could not get together, Brady and Rogers shared their enthusiasm with each other during the World Cup. 
"He is the person I talk to about the Rugby World Cup because he and I both watch," Brady said about Rogers. "If there is some missed call that is blatant and everyone is like 'How did the ref miss that?' We both text each other 'Dude, did you see that?'"
After Graduation
Rogers, an animal science major, is looking to pursue a career in the butchering side of the industry. He is hoping to intern for the University's Meat Lab this upcoming summer. 
After graduation, however, Rogers' future with Rugby is unclear. 
"There are some men's teams but it is not the same when you are an adult and have other responsibilities," he said. 
When asked if he believes his time with the club contributed to his overall UF experience, Rogers replied, "Oh absolutely." 
"I have met lifelong friends," Rogers said. "They have made this team feel like a home away from home."