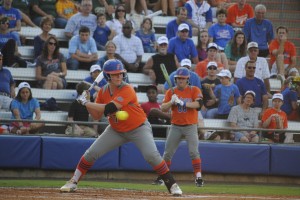 The number four Florida Softball team lost to the USF Bulls 4-1 Wednesday night.
Florida Freshman Pitcher Lauren Haeger fell to 9-2 on the season after allowing eight hits and walking five. Haeger was able to earn her sixth complete game of the season and was able to strike out four Bulls. Haeger also found some success at the plate when she connected with a solo home run in the fourth inning.
Haeger says she didn't have her best stuff on the mound and the loss will help the team move forward.
The Gators fall to 29-3 on the season. Florida Head Coach Tim Walton says he liked the effort his team played with despite the loss.
Walton adds he wants to see how his team will respond after the loss.
The Gators will head to Athens to take on SEC Rival and number nine Georgia in a three-game series. The Gators are first in the SEC East with a 10-1 record and will look to hold off the Bulldogs who are second in the division with a 7-2 record in SEC play.
Florida will look to avenge a three-game sweep Georgia handed them last season in Gainesville snapping an eight-game win streak in the series for the Gators. It was the first time the Bulldogs swept the Gators since 2006. Florida has success in Athens taking three from Georgia in 2008.
**For the entire photo gallery of Wednesday night's matchup click here:
http://www.wruf.com/blog/2012/03/29/usf-steals-one-from-florida-softball/
Photos by: Christine Casey